The designed-enhanced Variopac Pro packer for Krones AG, Neutraubling, Germany, scores in terms of a new container infeed and numerous advantages, such as good accessibility, fast change-overs, good reproducibility and fewer drives. For the first time, the Variopac Pro exhibited at the interpack features the new generation of shrink tunnels, constructed in shaft-wall design.
For two-lane handling, a shaft wall, in the shape of a perforated hollow compartment, has been incorporated in the middle, between the two packs, providing a direct flow of hot air onto the packs for a concomitantly high level of shrink-wrap quality. The principal focus of development work here was to optimise the shrink-wrapping operation for excellent shrink-wrap quality and an approximately 20-per-cent reduction in energy consumption compared to the machine technology used hitherto.
Another step for improving the energy balance is an option for changing over to gas operating mode, already factored in when the tunnel was being designed.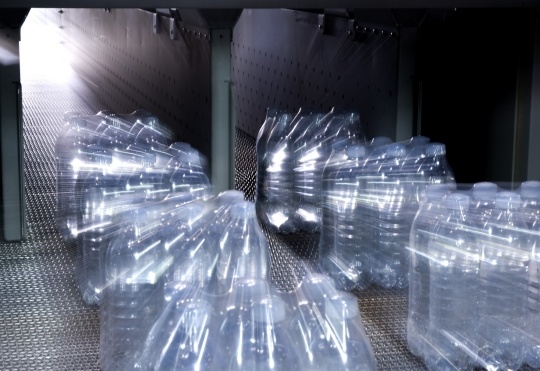 Overall, the lateral configuration of the heating elements has been designed to ensure that the air flowing through the tunnel can be optimally warmed, and that the registers are easy to replace. The desired air feed for each pack width can be obtained by adjusting the air slide valves in the vicinity of the base. The base sealing function has been optimised by offsetting the air nozzles. Intake in the upper section, air injection through the tunnel`s base, and the forward movement of the packs inside the tunnel, all combine to ensure a homogeneous flow pattern, with concomitantly beneficial effects on the shrink-wrap quality. The packs are continuously exposed to hot air during the entire shrink-wrapping operations, to ensure even shrinkage.
With the Variopac Pro, Krones offers a non-returnables packer for an output range of 30 to 100 cycles/min. For the high speed range (from 60 cycles/min), the machine has been fitted with a servo-drive for the blade movement of the film cutter. When handling different container and pack sizes, a height-adjustable film-wrapping station is used. The Variopac Pro assures flexibility for the future. The upgrade creates gains in functional dependability, enhanced machine availability thanks to improved assemblies, optimised film and carton handling, more operator-friendliness, better reproducibility and extended useful lifetime. More quality across the board.