RPC Containers Corby has launched the 'Uncan,' an enhanced range of retortable barrier jars for catering applications that represents an ideal mix of food-safe, long-life, lightweight jars with significant large-format cost savings.
The creation of the Uncan builds upon several recent high-profile launches from the site into the retail market, including the Heinz Fridge Pack and plastic jars for Marks & Spencer's British Groceries range. "RPC believes that the same qualities offered by these products are equally suited to the foodservice sector.
Barrier plastics are the cost-effective alternative to large metal cans and glass jars because they offer comparable standards of product protection, allied to enhanced convenience and safety," explains Vince Dean, Sales and Marketing Manager at RPC Corby. "These assets are highly valued by foodservice establishments, where fast, effective and shatter-resistant packaging is a must."
Based on the proven design of RPC's Thermic Ultra jar, the range offers a combination of large volume capacity and wide mouth ideal for foodservice requirements. Three key sizes spearhead the range - 3 kg, 5 kg and the Amgall (American Gallon).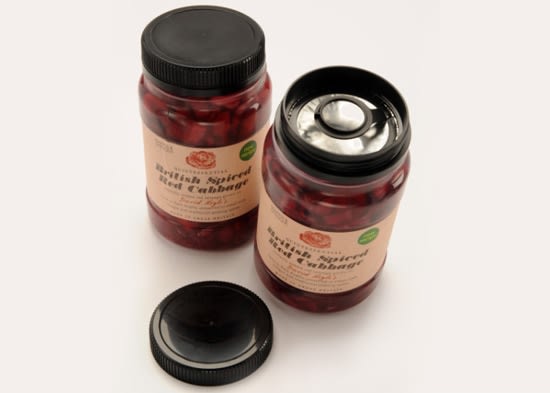 The container body relies upon a unique construction of thermic ribs, developed and patented by RPC Corby, which facilitate expansion and contraction during the heating and cooling stages. This ensures that the Uncan can provide the same quality of processing as metal or glass containers during hot fill or pasteurisation.
With its wide-mouth neck and robust shape, the Uncan can easily be hot-filled and processed using existing machinery. At the same time, the lightweight construction offers a significant packaging reduction and a lower cost platform compared to the glass and can alternatives.
Typical shelf life is 18 months unopened; afterwards, it is easily resealed and can be stored in the fridge without the need to decant contents into a separate container.
The Uncan is closed using a bespoke injection moulded PP cap manufactured by RPC Halstead, whose single start thread requires a full turn to open – an advantage in busy catering establishments where there is a risk of accidental spillage. "We can demonstrate that the Uncan delivers improved safety, convenience and commercial advantage to those serving the foodservice market," concludes Vince Dean. "The Uncan delivers more than the traditional packaging alternatives, with additional sustainability benefits."