Tymbark has recently launched an innovative beverage dedicated to young consumers.
Kubuś Waterrr is a spring water with addition of fruit juice in three flavours: apple, lemon and strawberry. Thanks to aseptic production it contains neither preservatives nor colorants. Waterrr has been introduced to the market in an attractive fully sleeved 0.5L bottle, capped with the Original Sport Cap in 30-25 neck finish. The handy bottle can be easily carried around during school and leisure activities. Furthermore, the closure, equipped with the SimpliSqueeze® beverage valve, prevents the product from being accidentally spilled in kids' backpacks.
The Original 30-25 retains the same characteristics and functionality which have proved so successful in the 28mm version – high transparency PP for the outer body and comfortable mouthpiece in organoleptic PE. An active hinge ensures the closure flips back wide open for easy drinking. The closure is easy to open and close for children, yet provides the tight seal and tamper evidence features to guarantee product integrity.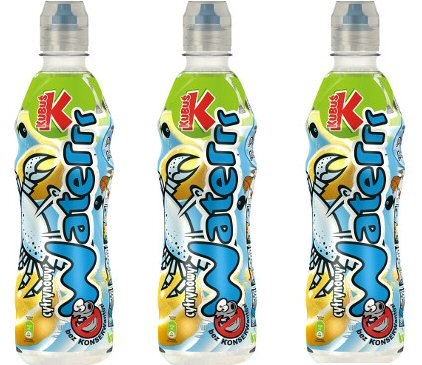 The SimpliSqueeze silicone beverage valve has been specially developed to float and be separated in the sink tanks used for PET recycling. It is also coloured for detection by vision systems. Any risk of contaminating the PET recycling stream is therefore eliminated.
Seaquist Closures is a world leading supplier of dispensing closures and systems to the Food & Beverage and Personal Care & Household markets. With an annual turnover in excess of $500 million, Seaquist Closures combines the creative spirit of 3,000 employees to manufacture over 10 billion closures each year in 14 plants around the world. The company is committed to using leading edge technology for the sustainable development of high quality, innovative dispensing solutions for a wide variety of custom and standard applications. Seaquist Closures is a wholly owned subsidiary of AptarGroup, Inc., a New York Stock Exchange listed company.