Trelleborg AB - a Swedish producer of sealing profiles for the automotive and building industries located in Trelleborg, Sweden - placed an order with KraussMaffei Berstorff for the delivery of two EcoLine microwave channels at K 2013 in Düsseldorf. The objective of this investment was to substantially reduce operating costs in the energy-intensive vulcanization process. Set-up and start-up of both microwave channels is scheduled for the beginning of May.
Improved cost-effectiveness and energy savings
Good things take time - this is particularly true when it comes to well-founded investment decisions geared towards boosting productivity, cost-effectiveness and efficiency on a sustained basis. After having convinced themselves of the pioneering benefits of the EcoLine system on the Technology Day held at the premises of KraussMaffei Berstorff in Hannover already last summer, Trelleborg did not sign the purchase contract for the two lines until K 2013. "In view of the excellent results in terms of productivity and quality obtained during extensive tests, we decided to opt for this sophisticated solution to further increase our vulcanization productivity", says Trellerborg's purchasing manager Joakim Hansson to explain the company's investment decision. "Special features of the EcoLine microwave channel are reduced waste gas losses and the energy-optimized switched-mode power supplies", explains Helmut Lüders, Product Manager for Rubber Profile Production Lines at KraussMaffei Berstorff. "Closed circulation of the process air provides maximum cost savings as 90 percent of the energy-intensive hot air remains in the system. Another new feature is the improved thermal insulation of the process chambers", adds Helmut Lüders.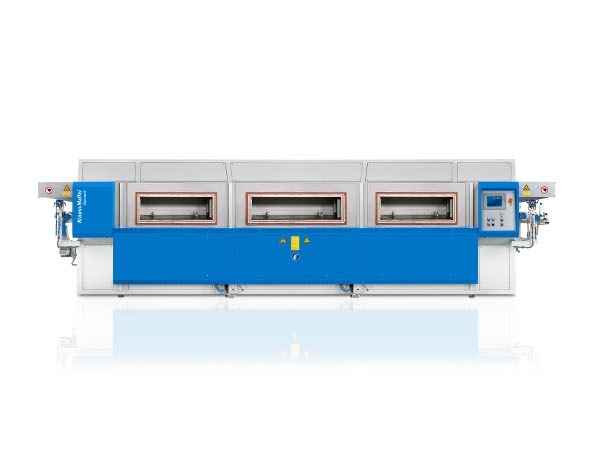 Time-tested technology for maximum reliability
Each of the four microwave channel modules is equipped with one generator of 6 kW magnetron power. A circulator integrated into the energy supply transfers the energy not absorbed by the product to the connected water load, thus improving the magnetron service life. The channel has a total installed magnetron power of 24 kW. The microwave generators are arranged above and below the conveyor belt. The specific design of the microwave coupling system ensures an extremely homogeneous field distribution. Both the microwave power and the conveyor belt speed can be continuously adjusted. The microwave channel has an effective cross-section of 280 mm width and 150 mm height.
The central control panel ensures that system settings can be selected with maximum ease. And the innovative process-oriented user interface helps to reduce set-up times during material changes.
With the new microwave channels, Trelleborg will boost cost-effectiveness and sharpen the company's competitive edge. "The EcoLine microwave channels are the ideal solution for our specific requirements - this well-tuned combination of time-tested technology with technical innovations is a sound investment in our future", explains Joakim Hansson.