Illig has now completed the generational transfer of the RV 53c automatic vacuum forming machine, a separately forming and punching thermoformer working from roll stock, by updating the so-called mold making manual for the new machine version.
The system of standard parts especially developed for RV 53 machines used for building molds, punching tools and stacking devices is an essential element and factor of success for this machine type. With this system the user himself can build required forming and punching tools of simple design and in a very cost-effective way.
The new generation of this thermoformer features an enormous increase in performance compared to the previous type, especially with regard to a cycle speed of up to 45 cycles/min now, and increasingly provides new options also for the production of food packs. The very economical investment and operation costs take effect particularly in the production of frequently changing small to medium batch sizes of approx. up to one million parts. RV 53c start of production was mid last year. The machine is equipped with a 500 x 350 mm2 forming area and suitable for depths of draw up to 100 mm above and 40 mm below material level.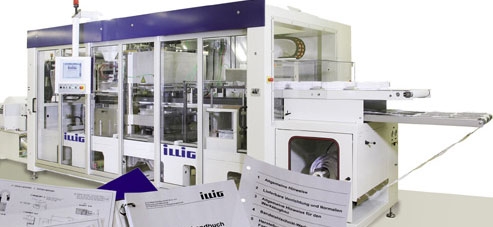 Materials such as PS, PVC, PET and PP can be processed; material thickness range is 180 mikrons through to 2.0 mm. The thermoformer's productivity and ease of operation were considerably improved in the course of the development into the current RV 53c version. The performance leap from formerly max. 23 cycles/min achieved by previous model RV 53b to 45 cycles/min achieved by RV 53c now is the result of comprehensive process optimization. Controlled overlapping in machine sequencing resulting in reduced cycle times, supported by optimized drive technology for forming, punching and stacking station, leads to higher output with optimum product quality at the same time.
The new control technology featuring machine operation via industrial PC with 12" TFT touch screen color display improves operator efficiency e.g. by providing structured operator guidance through all phases of optimization of machine setting data or visualization of process data of current production. Moreover, integration of the material roll stand is possible via Profibus interface. In this way the web can be unreeled continuously and uniformly for improved process reliability, e.g. when processing very thin materials.
The RV 53c vacuum-supported forming station is now designed for 3 bar forming pressure, 1 bar more than in the previous machine generation resulting in improvement of forming dynamics and definition. The heated material is pneumatically pre-stretched by "pre-blowing" to ensure stretching along the forming part contour is as uniform as possible.
Continuous use of existing RV tools without limitation was a further and very important condition in the development process. Only a new tool holding plate for the forming tool is required for RV 53c. Steel rule cutter, hole punch and stacking tools can be used from the RV 53b generation without any modification. It was possible, for example, to operate a tool for a menu tray (245 mm length, 215 mm width and 35 mm depth, manufactured from 0.5 mm PS) on RV 53c at a speed of 45 cycles/min. On the previous RV 53b a speed of only 23 cycles/min could be achieved. Thus the new machine generation achieves almost double the output in this application (productivity increased by 96 %). This increase in productivity at consistently double-digit rates has meanwhile been demonstrated in practical operation.
Even when thermoforming critical materials, such as partially crystalline PP, an increase in cycle speed of well above 40 % is being realized. In the past this thermoformer was frequently employed for the production of technical parts such as transport pallets, tray inserts and packs for the non-food sector. In its distinctly more powerful configuration RV 53c has gained high attractiveness for the production of food packs, too.
Illig is worldwide the leading company for high-performance production lines and tools for thermoforming of plastics and provides solutions for the packing industry. The performance spectrum includes development, construction, production, installation and commissioning of complex production lines and individual components.