Logopak, the company which launched on the market a new Logomatic 920 DK pallet labelling system received few days ago a Gold Medal of Taropak - the biggest event for packaging industry in Poland.
The awarded at Taropak in Poznan, Poland The Logomatic 920 DK pallet labelling system is the result of several years further development of the industrially proven 920 PF pallet labeller and continued investment in highlevel engineering.
Thanks to described Logopak`s new Power Leap II system, label print times have been clearly reduced and now two completely independently moving telescope-vacuum-pad combinations (DK units) simultaneously label adjacent sides of the pallet. Even a third side can be labelled if there is a necessary.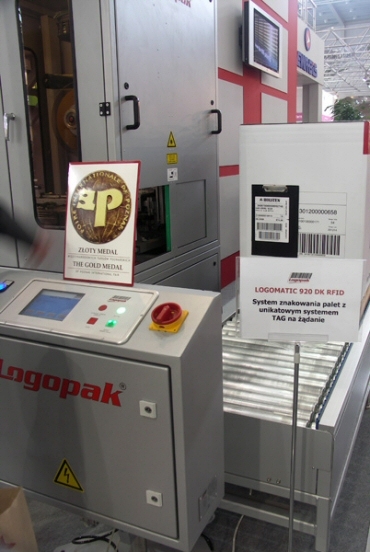 With strokes of up to 600 mm these heavyduty DK units are designed for variable sized product, the vacuum pads being spring loaded to cope with uneven surfaces. Despite its robust design the 920 DK is particulary compact. Positive internal pressure prevents ingress of dust and grit. Intended mainly for A4 and A5 size labels, 800 m of label stock and 1200 m of carbon ribbon stock ensure minimum down-time for material replenishment.
The Logomatic 920 DK can be run as a stand alone unit or online with serial or network interface to a host or local PC. The unique Leap quick-change printhead has a print width of up to 219 mm and is available in standard 8 dot/mm or optional 12 dot resolution.
A single printhead prints labels onto the two separately moving DK units whilst the pallet approaches the stop position. The pallet is held for only 5,5 secs, during which both labels are simultaneously applied and the barcodes checked by integrated laser scanners for legibility. Only after successful verification are the data stored and the pallet released, thus achieving 100 % data security.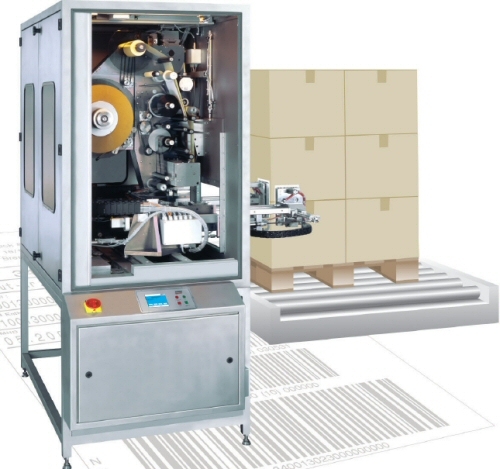 Should any of the codes not be 100 % in spec, the appropriate label is reprinted using dot-shift barcode correction software and precision-placed on top of the faulty label. With no need for human intervention and only a few seconds of lost production time 100 % data security is again maintained.