The last edition of Emballage in Paris was an excellent opportunity to keep abreast of the latest packaging solutions from Superfos.
The company launched some exciting products: SuperLockwith extraordinary low oxygen transmission rates, a new generation of Paintainer with improved stacking facility and SuperLight, its new range of thin wall packaging, with strong visual shelf impact.
We develop cutting edge packaging solutions to optimise supply chain efficiency and to create end user-preference for the products. Our broad product range made of plastic offers you a true alternative to other packaging material – explained Suporfos representatives.
The SuperLock packaging range has been designed especially for products which require extremely good oxygen barrier. This is partly made possible through the development of a new integrated oxygen barrier foil which covers all surfaces on the packaging. Further, SuperLock is membrane sealed. These two properties combined ensure an almost non-existent oxygen transmission. Compared to reference packaging food products stay fresh here for longer. The company's laboratory tests show that SuperLock doubles or even triples shelf life. This makes SuperLock a true alternative to other packaging material for food with long shelf life requirements.
InMouldLabels on all surfaces is another advantage that SuperLock offers. The graphic quality is outstanding and sure to impress for customers. SuperLock comes in a broad range of sizes from 65 ml to 875 ml.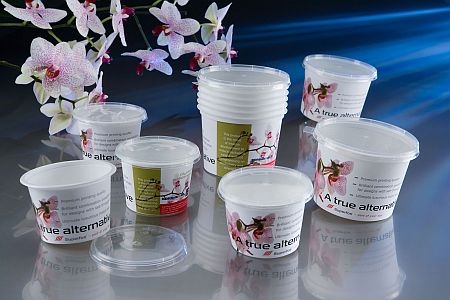 Another product novelty is the new Paintainer, an ideal packaging solution for paint, which is often sold in metal containers. - If you would like less noise on the filling line and a less heavy container without any risk of rust and dents, then Paintainer is the right solution for you. Its improved stacking facility makes it easy to handle in the warehouse, in the store and in the end-users home – added Superfos representatives. - The improved functionality is impressive and customers will appreciate the end user convenience. The new opening system makes it very easy to open Paintainer®. It is also easy to close, pour from and empty. Paintainer is available from 400 ml to 5000 ml and the perfect choice for your Pan-European branding. Take advantage of its large decoration area for a great brand impact. Coloured handles make up a sleek detail – they continued.
Last but not least novelty is SuperLight, thin wall packaging ideal for dairy products available in two sizes, 275 ml and 615 ml with more to come. It is a great alternative to thermoforming with its strong visual shelf impact and very well suited for dairy products such as cottage cheese, sour cream and many more. SuperLight is a light weight, yet sturdy packaging which the end-user can use again and again without risk of breakage.
In terms of production, it is friendly to the environment as the amount of raw material is quite limited and the manufacturing method is responsible. Its light weight reduces the energy consumption during transportation – briefly, SuperLight is a sustainable packaging solution.