Tri-Medics, LLC, Foxboro, Mass., a leading manufacturer of medical devices and instrumentation, has unveiled the industry's first fully-adjustable plastic positioning support for orthopedic trauma surgery.
The Bender adjustable positioning triangle, made of Radel polyphenylsulfone (PPSU) resin from Solvay Advanced Polymers, LLC, a Solvay Specialty Polymers company and global supplier of high-performance polymers, offers surgeons a simple and easy-to-use solution that is adjustable, autoclavable, and radiolucent for x-ray use.
The Bender triangle is adjustable to the human anatomy, simplifies surgical procedures, and decreases operating room time, according to Bradley Bender, Tri-Medics president and inventor of the patented device. It is a highly effective alternative to expensive and more complicated fixed positioning supports made of foam rubber and metal.
"This one-of-kind device gives surgeons a broader view as well as greater control and precision," said Bender. "Radel PPSU played a major role by delivering high strength and radiotranslucence."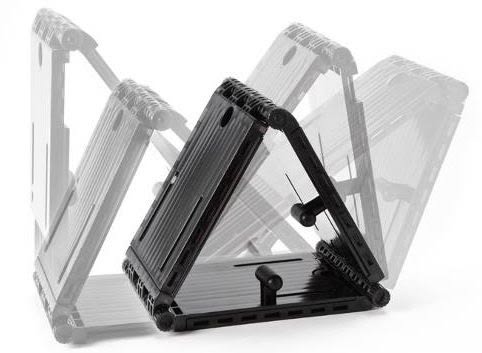 Radel PPSU offers high strength during intramedullary (IM) nailing of the femur and tibia and other manipulative actions. The unique device is used for universal positioning for IM nailing, plating, and external fixation applications. The Bender consists of three injection molded adjustable sides that form a triangular structure or as a single unit for an optimum starting point during IM nailing of the tibia.
The triangle allows the surgeon an unlimited range of adjustments for positioning the patient extremities as needed for specific procedures. It can be configured to any angle or height as a unit or segmented for hyper-flexion and optimal exposure.
Radel PPSU also offers excellent chemical resistance and withstands repeated autoclaving – up to 1,000 cycles – while maintaining its toughness and impact resistance. The material is a super-tough transparent thermoplastic with a heat distortion temperature (HDT) of 207°C (405°F).
The Bender triangle – which consists of three sides and three pivot corners – is made entirely of Radel PPSU, except for six stainless steel nuts, according to designer Jeffrey Kapec, co-principal and executive vice president of Tanaka Kapec Design Group, a leading industrial design and product development firm in Norwalk, Conn. The four-pound device slides together and is assembled with pins made of Radel PPSU.
Radel PPSU beat out competitive thermoplastics such as polyetherimide (PEI), polyetheretherketone (PEEK), and polycarbonate (PC) due to a number of performance attributes including processability and repeated autoclaving without warping. The 30-cm (12-in) long sides – injection molded by General Pattern, Blaine, Minn. – were made in 0.5-cm (3/16-in) thick sections without sink marks, according to Kapec.
Tri-Medics sells the Bender adjustable positioning triangle nationally to surgeons and hospitals.
Solvay Advanced Polymers is a global leader in the development of sulfone polymer technology, launching Udel polysulfone nearly 45 years ago. In addition, Solvay's experience as a key materials supplier in the healthcare field spans more than 20 years. The company is a leading manufacturer of high-performance specialty polymers, offering a broad range of materials for healthcare instruments and medical devices. More recently, Solvay has successfully introduced its line of Solviva Biomaterials and offers them for use in a range of implantable devices.