ENGEL uses the iQ prefix to denote the expanding number of intelligent assistance systems in its inject 4.0 range. These enhance the quality and efficiency of production without requiring machine operators to acquire specialist knowledge. Five years ago, iQ weight control became the first iQ system to be launched; since then, more than 1,500 of the systems have been sold worldwide. Initially, the software was limited to use with injection moulding machines with electric injection units; now iQ weight control is also suitable for hydraulic machines. "Feedback from the market has been excellent," says Kassek. "iQ weight control significantly increases reproducibility in hydraulic victory machines."
Maximum integration with a minimal footprint
ENGEL will bring a second exhibit to Moscow to demonstrate how to maximise the efficiency potential of tie-bar-less technology in the field of medical technologies as well. Compact manufacturing cells are particularly beneficial in the cleanroom environment. Two years ago, ENGEL developed a stainless steel pipe distributor for the cavity-specific handling of small injection moulded parts; this will be presented at Interplastica with a totally new and more compact design. Thanks to tie-bar-less technology, it is situated next to the clamping unit of the ENGEL e-victory 80 injection moulding machine and completely fits into the machine's widened safety gate.
At the trade event, the highly compact manufacturing cell will produce needle holders for 1ml safety syringes using a 16-cavity mould. An ENGEL viper 12 linear robot will remove the delicate polystyrene parts from the mould and transfer them to the distributor system. To ensure batch traceability to the level of individual cavities, the injection moulded parts will be packed in cavity-specific bags. For this purpose, 16 bags will hang in a cart directly beneath the pipe distributor. Individual shots can be extracted for quality control purposes.
For unmanned cleanroom operation - for example, during night shifts - two carts can be alternated in sequence, with a buffer system enabling the fully automated exchange. The entire periphery for this is integrated into the CC300 control unit of the injection moulding machine. Thanks to shared data storage, the CC300 can precisely coordinate the movements of the machine and the robot with each other, thus optimising overall efficiency. The total cycle time for this application is just six seconds.
The delicate needle holders, which have a shot weight of just 0.08g and varying wall thicknesses, require extremely precise process control. ENGEL guarantees this through the electric injection unit of the hybrid e-victory machine and iQ weight control.
Immediate response, 24/7
The two machines at the ENGEL stand will be linked so that machine statuses and process data can be tracked in real time via a central computer. In this way, ENGEL will be able to showcase other products from its inject 4.0 range in Moscow. For example, e-connect.24 enables remote maintenance of injection moulding machines and production cells, even at distant production locations. Qualified ENGEL service engineers can be contacted directly 24 hours a day, seven days a week. As soon as they receive a service request, they use a secure remote connection to start troubleshooting and providing specific online support. "In many cases, faults can be resolved over the internet," says Olaf Kassek. "Users benefit from the fact that they don't need to call out a service technician, which is expensive and time-consuming, and from the greater availability of their production system."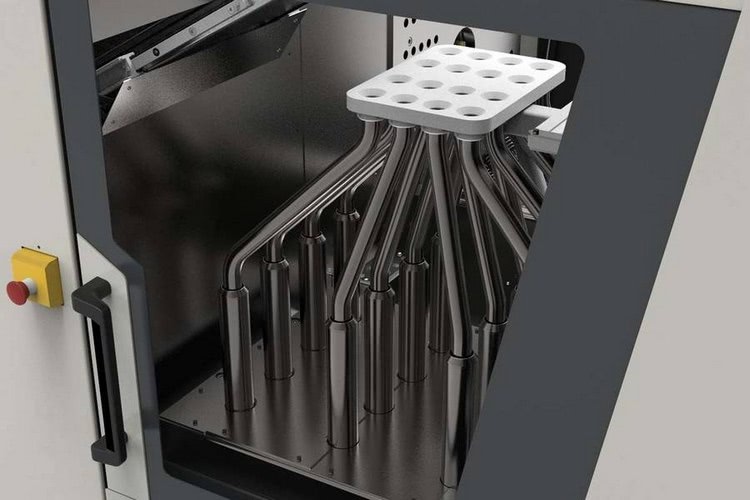 Compact integration: The pipe distributor fits in the machine's safety guard. All parts that are in contact with the product are stainless steel.