Sidel introduces the FlexLine at Interpack 2008. FlexLine is the first bottling line dedicated to producing ultralight water bottles at high speeds. This environmentally-friendly technology paves the way for mass production of these types of bottles.
Producing ultralight bottles presents real challenges at every step in the manufacturing process, from bottle design to pallet loading. And today, more and more manufacturers are looking for ways to produce PET water bottles at a lower cost, with minimum environmental impact, while still showcasing their product.
In October 2007 at the K trade show in Düsseldorf, Sidel launched NoBottle, a bottle concept combining elegance and ultralight weight (9.9 g for 500 ml). The secret lies in Sidel`s Flex technology, which combines the flexibility of plastic with shape memory. Shape memory enables bottles to better withstand the rigors of conveying, packaging and transport. In other words, Flex gives NoBottle the keys to mass production and distribution. The technology is already being used by mineral water giants like Nestlé Waters in the U.S. for its Eco-shape bottle.
Today, Sidel offers a complete solution for the wide-scale production of bottled water in NoBottle. Its FlexLine is the first bottling line specially designed to package still water in the ultralight PET NoBottle. The line is able to blow mold, fill, cap, label, pack and palletize a bottle weighing less than 10 g at a rate of 43,200 bottles per hour. To build the line, Sidel brought together its most technologically advanced equipment best suited for packaging lightweight bottles.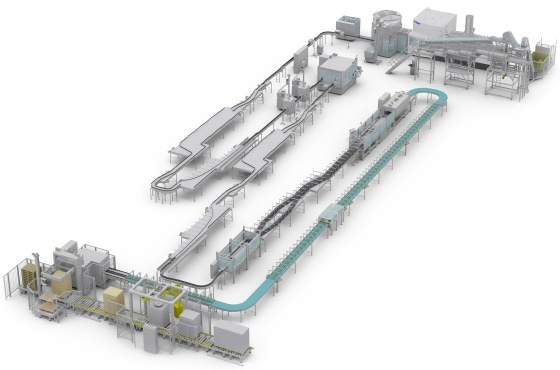 At the heart of the FlexLine is the Combi. By combining blow molding, filling and capping, the Combi eliminates challenges posed by air conveying empty bottles making it particularly well-suited to producing ultralight bottles. All steps in the production process, from blow molding to palletizing, have been tested and enhanced, with each machine on the line fine-tuned to guarantee reliable production of lightweight bottles at a lower cost. The TCO (Total Cost of Ownership) is 20% less than the TCO for a traditional line producing 500 ml bottles weighing 16 g.
FlexLine is better for the environment, but not simply because it produces lighter bottles. It also uses less energy than conventional production lines. For example, on the Combi`s blow-molding section, which is the line`s biggest energy user, the installed electric power has been cut by 32%, and 40% of the air can be reused thanks to a recycling system. The line also features an energy efficient cap feeder and conveyors. Finally, preforms containing recycled PET can be used on the FlexLine.
Sidel is one of the world`s top suppliers of beverage packaging equipment. The company employs 5,500 people around the world and is a division of Tetra Laval.