The production of a lightweight center armrest for the automotive interior is one of the latest examples of the use of the innovative FLEXflow technology from Italian hot runner specialist, HRSflow. The multi-step process combines the thermoforming of a composite sheet with the injection molding of two different thermoplastics. Development partners in the successful implementation of the project included injection molding machine manufacturer, KraussMaffei, as well as US mold manufacturer, Proper Tooling.
The load-bearing structure of the center armrest was created with the aid of the FiberForm process developed by KraussMaffei in which a thin-wall, fiber-reinforced composite sheet is heated, inserted into the mold and thermoformed. The two subsequent injection molding processes are carried out according to the principle of the swivel-platen technique simultaneously in two opposite parts of the same mold. In one step, the carrier is first encapsulated with polypropylene (PP). This results in the near-final geometry of the part, including the elements needed for subsequent assembly. This PP structure is then overmolded with a thermoplastic elastomer (TPV) in the opposite section of the mold. This produces the flexible visible surface with the fine grain that is later responsible for the high optical and tactile quality of the center armrest.
With both injection molding steps, a FLEXflow hot runner system is used, with two or three hot runner nozzles. Their servo-electric, individually controlled valve pins ensure optimum filling of the cavities in each case, and they also contribute to the reliability and economic viability of the process.
The integrated servo-electric valve gate system - the characteristic of the innovative FLEXflow technology - opens up a variety of possibilities for adjusting the process parameters. It is possible, for example, to control the individual pins of a hot runner system independently of one another with regard to their stroke, velocity and force. This means that users can control the pressures and flow rates during the entire mold-filling process very accurately, easily and flexibly and thus optimize the quality of their injection-molded parts. The attainable advantages over conventional pneumatically or hydraulically driven valve gate systems include the possibility for producing streak-free Class A surfaces and reducing warpage. Another benefit is its maintenance and user friendliness. The clamping force can be lowered by around 20 %, and the part weight by up to 5 % while ensuring the outstandingly high reproducibility that is absolutely essential for large-series production.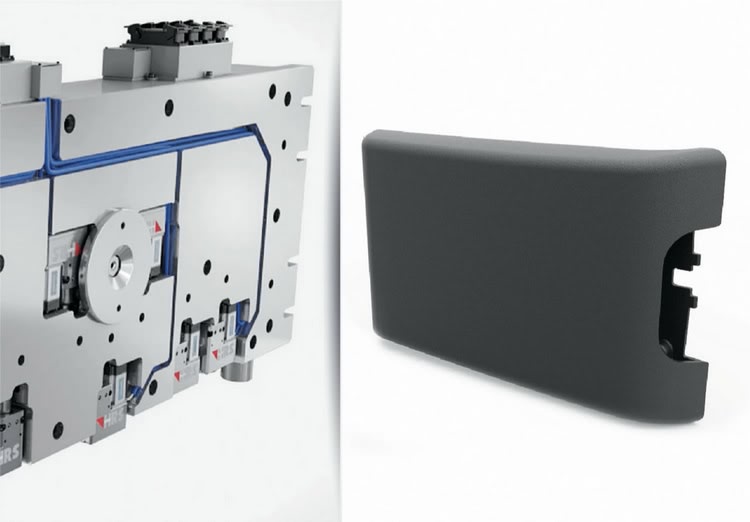 Servo-electric programmable FLEXflow hot runner systems from HRSflow help to ensure that the series production can consistently meet the stringent quality specifications.
Source: HRSflow