Spanish firm Rocersa can now count on a new Sacmi-supplied press, the innovative PH 7500, the latest from the new "Imola" range, high-tonnage presses designed to take the place of the "Power" series that first appeared in 1999. Featuring significant technical innovations, the machine guarantees uniform distribution of the pressing load, even on larger-size models.
The PH 7500 installed at Rocersa will mainly be used to produce large-size porcelain tiles (two 80x80 cm cavities) but high power levels certainly do not prevent the press from offering outstanding production performance with small-medium sizes as well. A flexible machine, then, that can easily be used on various kinds of production plant.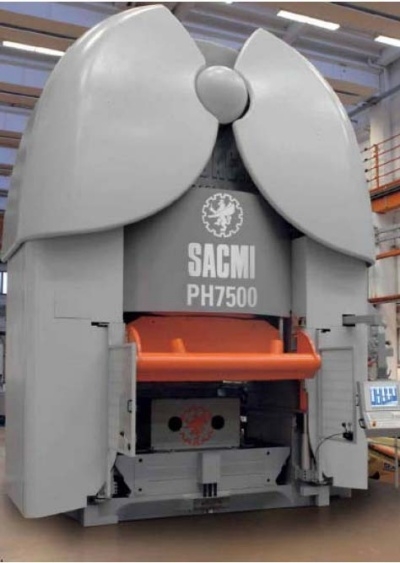 All the presses in the new "Imola" range are equipped with cutting-edge software that can "self-regulate" the machine to ensure optimum productivity and, of course, outstanding final product quality. Maximum speed/control of all the forming parameters is provided by the hydraulic control unit, which, on the "Imola" range, is connected directly to the cylinder.
This new generation of Sacmi presses has aroused keen customers` interest. Thanks also to changing trends in demand, more and more oriented towards large tiles, the market performance of these presses has so far been excellent. With an effective load width of over 2250 mm, the PH 7500, in particular, is actually the largest tile press on the market.