SABIC launched new Ultra-Stiff Lexan Thermoclear sheet solutions
SABIC Innovative Plastics continues to lead in the plastics industry with the announcement of its latest polycarbonate (PC) sheet technology for stadium roofing.
New Ultra-Stiff Lexan Thermoclear sheet builds on the company's impressive three decades of success in delivering state-of-the-art materials to help stadium architects and designers improve safety, durability and enable design freedom. With the ability to withstand high winds and heavy snow loads, Ultra-Stiff Lexan Thermoclear sheet was chosen for the free-hanging roof of the football stadium in Śląski Chorzów, Poland. This new lightweight, high-performance material is the newest addition to SABIC Innovative Plastics' growing portfolio of sheet products that have proven their value to customers in over 50 stadiums worldwide.
"Sports stadiums are often the focal point of a community and present an opportunity to make a daring architectural statement," said Carina Viola, segment leader, Building & Construction, Specialty Film & Sheet, SABIC Innovative Plastics. "Our tough, lightweight and versatile Lexan sheet products make it possible to create large and dramatic roofing and glazing elements that perform beautifully in a wide range of climates and conditions. With the global spotlight on sustainability, these materials are also an ideal choice for improving energy conservation. Our longstanding leadership and global visibility in the stadium sector is significant."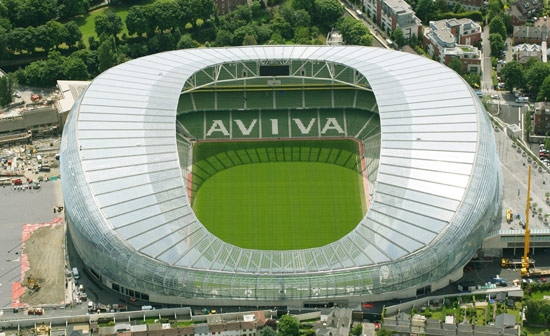 Lexan Thermoclear sheet helps contribute to Leadership in Energy and Environmental Design (LEED) certification by providing natural light and possible recycled content. Solar Control infrared (IR) grades reduce build-up of interior heat in arenas while increasing natural light transmission. Another important benefit of Lexan Thermoclear sheet is its light weight, which makes it cost effective to transport and easier to handle and install compared to heavy glass panes. Also, the material can be used with a lighter supporting steel framework than glass requires, which can reduce material and shipping costs.
Being showcased at the show is SABIC Innovative Plastics' three-wall, X-structure, Ultra-Stiff Lexan Thermoclear sheet. This sheet delivers exceptional performance with the capability to withstand wind and snow loading pressures of up to 2,200 N/m2 equivalent to wind speeds up to 125mph (200km/h). It also offers up to 250 times the impact resistance of glass to reduce the risk of breakage from wind, hail and other extreme weather, as well as vandalism. The multiwall configuration of the product provides excellent thermal insulation.