Walki-Lid
is made of paper and plastics that can be separated from each other as a part of the normal paper recycling process. The extrusion coated lid is durable, easy to print on and it can be cut into different sizes and shapes. And above all, it's easy for consumers to peel off the lid without tearing it and to dispose of it together with other paper waste.
"Originally we started to develop a fibre based lid for milk product packaging because we thought it would be stronger than traditional lids made of aluminium," says Heikki Lumme, Packaging Product Line Manager at Walki. "But now the environmental issue is an equally important aspect".
He emphasizes that a fibre based lid, of which Walki is nearly the sole manufacturer, has an inherent strength and puncture resistance that is very important in some dairy product segments.
"Since traditional lids were also almost impossible to tear off in one piece, we saw a clear market for a paper-based lid that is both strong and easy to open. Altogether, we think that our lid strengthens consumer confidence in the quality of the product it protects, which we think improves retail profitability."
Excellent printability
One main advantage of Walki-Lid is its excellent printability, capable of carrying the most demanding graphics produced by modern printing processes.
"It's obvious that attractive looking packaging gets the customer's attention in the shops," says Mr Lumme. "That's why we think the product will benefit the whole supply chain, including brand owners and consumers."
The extrusion coated lid can be delivered either in rolls or cut in sheets. Walki can customize certain properties of the material. The backside can for example be customized to optimally suit containers with certain specifications.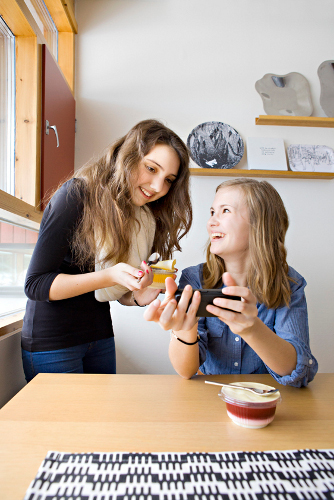 Growing demand
Production of Walki-Lid has increased significantly in recent years. In 2011 growth was around 20%.
"The main markets have so far been in the Nordic countries, but we have customers as far away as Australia and Africa, which shows that it's a truly international product," says Mr Lumme. "Now that we have developed it to suit a broader spectrum of dairy products, we aim to grow, particularly outside the Nordics."
He emphasizes that Walki-Lid is suited for a broad range of dairy products in single-portion food packaging applications.
"When there is a need for a great looking lid that has to be strong and easy for consumers to peel off, our fibre based lid is hard to beat." /ins
Captions:
Walki's paper-based lid for single-portion food packaging applications, Walki-Lid, is strong yet easy to open at the right moment.
© Walki Group