With an intelligent modular design,
KraussMaffei
Berstorff is now offering its customers ready-to-connect compounding systems that can be ready for operation on location in almost no time.
All of the major components, such as metering units, extruder, control system, side feeder, vacuum units and filter units are wired completely, installed into various base frames, and tested at KraussMaffei Berstorff before being commissioned.
"The modular design is ideal for meeting tight deadlines and specific demands, such as small batches with different formulations, or just-in-time production runs. This special model comes with EasyClean, which guarantees fast and easy machine conversions and ensures that compounders can serve their clients flexibly while still producing both competitively and economically," explained Matthias Sieverding, Director of Extrusion Technology at KraussMaffei Berstorff in the USA.
With the EasyClean design, clamp and clamp flange connections are provided on hoppers and on product lines to feeders and buffer hoppers. These can be released without tools, making cleaning tasks quick and easy. The special sealing profiles guarantee reliable seal during production. In addition, it is possible to integrate a central dust extraction system. This saves time by vacuuming and extracting dust at various areas of the compounding system simultaneously.
Shipped ready for use.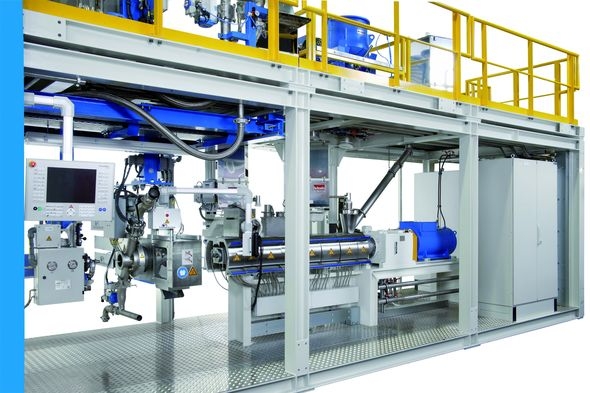 "The modules are fully wired and piped so that the customer only has to supply power and water connections," said Sieverding. The individual system components - a twin screw extruder, type ZE 60 A UTXi, the "KraussMaffei Berstorff Process Control" control system, underwater pelletizer and a separate switching cabinet - are all completely assembled and installed onto a base plate.
An integrated stairway provides access to the gravimetric metering units on the second level. So that neither cable nor pipe can hinder production, the entire electrical system and water piping are integrated into the base plate and base frame. With its self-supporting steel construction, the module can be transported as needed from A to B easily and safely.
With the modular design, commissioning and tests under production conditions can be carried out at KraussMaffei Berstorff before shipping. By detecting interface problems early, and at the location where they can be fixed quickly and economically, this increases later operating safety. Furthermore, the operating and maintenance personnel can be trained in advance in conjunction with the commissioning in Hanover.