KraussMaffei proactively supports tire producers in their objective of producing low rolling resistance tires.
Against this background, the extrusion experts have extended their well-proven Multiplex extrusion line series for tire components by adding the new QuintoPlex line with five extruders. Tire producers can thus include additional conductive compounds or other components into the tread.
Tire producers continuously strive to obtain tires with reduced rolling resistance. This is why the further development of tread compounds is focused on replacing carbon to an increasing extent by silica, which - in addition to reducing the rolling resistance and thus fuel consumption - improves the driving stability on wet roads and reduces the braking distance.
"With our highly efficient QuintoPlex line we support tire producers in their ambitions", declares Joachim Brodmann, Technical Sales Manager at KraussMaffei Berstorff. The new QuintoPlex line is suited for combining up to five tire components of different compounds - cap, base, wing, cushion and chimney - to one tread in a single working cycle. Depending on process requirements, the line can be equipped with cold-fed extruders featuring screw diameters of 45 to 250 mm. Apparently, the market was more than ready for the new line concept: several Multiplex lines with five extruders have already been sold since its recent launch.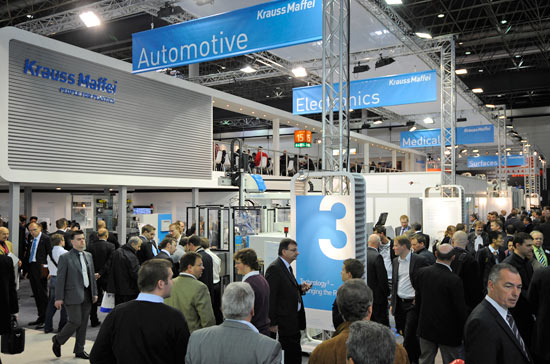 "The new QuintoPlex extrusion line is the result of further development of our well-known QuadroPlex extrusion heads", explains Joachim Brodmann. "The proven QuadroPlex line components have been optimized, enabling us to place the thermally decoupled fifth extruder in the head center." The special design of the short flow channels within the extrusion head is an additional benefit of the new concept. The material can thus be transferred from the round diameter in the screw area to the flat rectangular profile shape without being subjected to extreme deflection.
In addition to outstanding cost-effectiveness and substantially reduced space requirements, KraussMaffei's design engineers have ensured easy machine access for operators. In particular with compounds for asymmetric low rolling resistance tires, the discharge position of the conductive compound on the tread can be freely varied using special inserts.
Many tire producers provide their treads with a conductive bar – the so-called chimney – to improve the electrostatic discharge properties of treads with high silica content. The chimney ensures that electrostatic charges are discharged to the road.