In the pioneering days of automobile engineering, all vehicles had bodies with wooden frames and wooden dashboards, and they were premium products crafted individually and by hand.
Today, the motorcar is a mass product made in different quality categories. But the premium-class models are distinguished from the standard versions by luxury extras, primarily in the interior. These include above all decorative parts with real wood veneer surfaces or carbon fabric with special surface finishes, even going as far as piano lacquer finish. In spite of all mechanization, the production of such parts still requires a high degree of skilled craftsmanship.
The market leader in this domain is the German company Novem Car Interior Design GmbH. For the production of these wood/plastic and/or carbon/plastic composite parts, Novem has decided to invest in the new MacroPower injection molding machines from Wittmann Battenfeld. With their ergonomically designed clamping units, these machines offer optimal conditions for an effective combination of machine operation with plastics processing.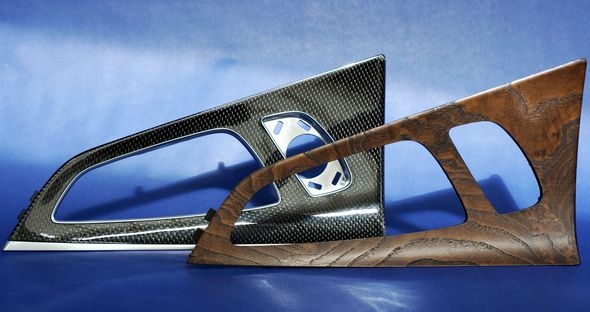 Process technology for over molding lacquer film or decorative film has frequently been in the focus of professional reporting in recent years, above all in connection with applications for automotive interiors. Interested observers could get the impression that the future belonged exclusively to the admittedly more and more perfect imitation prints of natural material surfaces and their automatic processing into decorative parts.
But this impression was very effectively refuted by a visit to the German automotive supplier and surface specialist Novem at its Slovenian facility, since decorative film does not take the center stage here, but rather exquisite precious wood veneers from all parts of the world, or carbon fiber fabric, as well as the skills and craftsmanship required to process these materials.
The impression of superior quality is enhanced still further when these decorative parts are embedded in an environment of equally valuable leather or textile applications. Such up market decorative parts can be found in the premium models of the middle-class and upper-class series of virtually all car manufacturers. And there is a noticeable trend towards offering such premium decor as an option also for small and medium-sized vehicles.
But premium requires first-class workmanship. In spite of all modern technology, it takes a considerable number of production steps and highly skilled craftsmanship to produce a ready-to-install decorative part from the raw veneer.
Both veneers and fabrics have a life or their own in spite of most meticulous preparation.
They are of course stabilized by preparatory steps such as trimming, compression-molding and lamination with liners prior to being processed on an injection molding machine, yet their insertion into the cavity of the mold requires the experience and sensitivity of a machine operator. Experience is vital, because the veneer parts change their form slightly, depending on the environmental conditions, and therefore require sensitive adjustment while being inserted and positioned inside the mold. Having this task handled by robots would be excessively costly.