In the automotive and electronics industries, precision and zero-defect production are necessities.
At the "Precision" Cluster Meeting, Sumitomo (SHI) Demag Plastics Machinery GmbH will demonstrate how to implement the main quality requirements in these sectors, with various exhibits from their all-electric IntElect series.
Visitors will be able to watch a fully automated cell for zero-defect production mass-producing precision mouldings for car electronics, as well as an injection moulding machine producing thick-walled optical components.
One of the exhibition's highlights is a fully automated cell for plug production, including a quality checking sequence for implementing zero-defect production. At the core of this production unit, an IntElect 100-340 (1000 kN), will manufacture two-pin plug casings made from glass fibre-reinforced PBT in a four-cavity hot-runner mould from Fischer GmbH & Co. KG, Sinsheim/Germany, in a cycle time of 11 seconds. The component, weighing only 3.5 g, is intended for automotive electronics and has significant differences in wall thickness. It demands the highest degree of precision and reproducibility.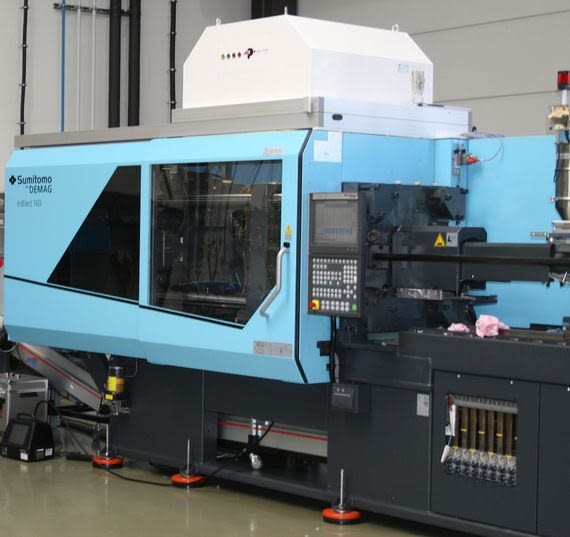 "This exhibit shows a production cell that a top-class manufacturer uses to produce plugs – along with the entire quality checking sequence," Bernd Tröger, head of Marketing at Sumitomo (SHI) Demag, is pleased to report, in light of the high-quality demonstration. All four mould cavities are equipped with Kistler sensors to record the cavity pressure. The mould temperature is monitored by the injection moulding machine. The unit's high process consistency is demonstrated by inline statistical quality analysis that also calculates the process capability index Cpk. To achieve this, Sumitomo (SHI) Demag implemented the production monitoring system from T.I.G. Technische Informationssysteme GmbH via Virtual Network Computing (VNC), directly in the injection moulding machine's control system. The T.I.G. master computer receives all of the machine's production and process data, making it possible to monitor and document every single production phase in detail.
The linear robot SDR 22 from Sumitomo (SHI) Demag's own product portfolio is used for removing the moulded parts, and its operation is also directly integrated in the machine controller. The gripper system deposits the plug casings according to cavity. Any mouldings recognised as defective can thus be sorted out as rejects.
The modules implemented in the electric IntElect injection moulding machine – "activeDynamics" for short sampling times, "activeEcon" for energy consumption analysis, the switchable "activeLock" non-return valve, and the new "activeFlowBalance" function for balanced filling in multi-cavity moulds – significantly boost the cell's production efficiency.
Fischer GmbH & Co. KG, Sinsheim/Germany, who supplied the mould for this exhibit, has been a loyal customer of today's Sumitomo (SHI) Demag for many years. About 80 percent of the plug connector specialist's 65 injection moulding machines were built in Schwaig or Wiehe. Since 2004, the company has also been using all-electric injection moulding machines and currently operates nine IntElect machines. The IntElect's high reproducibility is key to maintaining Fischer's high standard of quality, the company reports.
The second exhibit from the automotive industry likewise places high demands on production. For this demonstration, as well, Sumitomo (SHI) Demag was able to borrow a mould from a customer's series production. With a single-cavity mould from Hella KGaA Hueck & Co. of Lippstadt/Germany, an IntElect 350 1700 (3500 kN) produces crystal-clear PMMA light covers in a cycle time of 59 seconds. The high-performance robot that removes the mouldings, a type S5-35 robot from Sepro Robotique, is connected to the machine control system via a Euromap interface.
The customer's goal is to further improve the production costs and the quality of the sophisticated mouldings. After injection moulding, the part is embossed, and then installed in the tail light of a car. The moulding must fulfil optical demands such as transparency and low differences in stress level, as well as technical requirements such as melt consistency and reproducibility.
In its regular production, Hella uses the lieght cover mould in a hydraulic 3500 kN machine from Sumitomo (SHI) Demag. The name Hella is internationally synonymous with innovative lighting systems. The automotive supplier develops and manufactures components and systems for lighting and electronics. Hella was recently named Best Porsche Supplier for 2011. Over 120 Sumitomo (SHI) Demag machines are currently in use at Hella's European locations.