Process technology highlight of this line is the main extruder model BC 1-120-40 D WT 170, equipped with a processing unit in which a single screw is combined with a planetary roller extruder section. The machine's design is similar to that of a standard single screw extruder, but equipped with a planetary roller zone in the degassing area. The operating principle in this area causes the melt to be spread out in very thin layers. In this way, an extremely large surface is generated, which produces excellent degassing results. This even permits the use of undried regrind material and ensures energy-efficient operation of the entire line.
Coveris was established in May 2013 through the merger of the American company Exopack with the four European packaging companies Britton Group, Kobusch, Paccor and Paragon Print & Packaging. The group, which belongs to the portfolio of the private equity company Sun Capital Partners Inc., is recognized today as the sixth largest packaging producer worldwide, with 2.5 billion USD in sales, 8,600 associates and subsidiaries in 21 countries. The Coveris product range includes rigid and flexible packaging for virtually all branches of industry, including the agricultural, pharmaceutical, medical and electronic industries as well as the food industry, which has the largest share in the company's sales figures.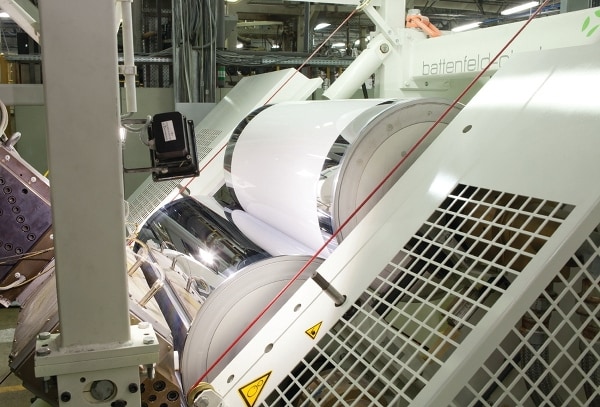 The battenfeld-cincinnati group operates production facilities in Bad Oeynhausen and Kempen (Germany), Vienna (Austria), Shunde (China) and McPherson (USA). It is a leading manufacturer of energy-saving, high-performance extruders and complete extrusion lines to customers' specifications. The company is organized in three divisions: Infrastructure (all applications for single screw extruders), Construction (all applications for twin screw extruders) and Packaging (extrusion equipment for non-PVC sheet, granulators, calenders and lamination equipment). battenfeld-cincinnati offers its customers an extensive global sales and service network.