Paccor International GmbH, based in Zell (Mosel) in Germany and now a member of the Coveris group, has expanded its production capacity for PET sheet with the purchase of a complete 3-layer coextrusion line, including an in-line lamination station, for its Polish factory in Skierniewice. The line from battenfeld-cincinnati achieves enormous output of 1.1 t/h and great variability through thicknesses ranging from 200 µm to 1.2 mm. Due to the in-line lamination station multi-layer sheet are just as easy to produce as barrier sheet and sealing sheet made of different polymers and regrinds.
Since the end of August 2013 the new 3-layer co-extrusion line has now been operating at the Polish Coveris plant in Skierniewice to the customer's complete satisfaction. "We have once again chosen a line from our long-standing machine supplier in Bad Oeynhausen, as we are absolutely satisfied with the energy-efficient operation and the options of manufacturing a variety of different sheet products with one extrusion line only. Another decisive argument in favor of the purchase was the high output of 1.1 t/h with a net sheet width of 900 mm, which enables us to optimally cater to the growth market of food packaging", says Marcin Antos, Managing Director of Coveris, Skierniewice.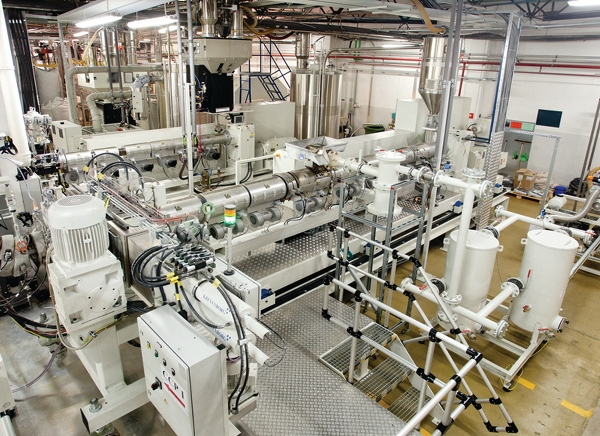 The complete line includes all components from material dosing to the sheet winder and lamination unit. The co-extrusion line is able to produce 3-layer PET sheet in thicknesses ranging from 200 µm to 1.2 mm. Thanks to an optional rotating infrared tube (or heater) for precrystallization of the material, regrinds can also be used in the middle layer without any problems.
The immense variability of the complete line is rounded off by the lamination unit in which, for example, the sheet can be provided with a barrier layer to extend the shelf life of the packaging, or with a PE sealing layer for subsequent peelability and/or weldability.