In 2012 the worldwide market for incontinence and stoma products amounted to 11.5 billion US dollars. This figure was published by the American market research firm Grandview Research in May 2016. And an end to the growth is certainly not in sight. By 2020, the figures may be as high as 17.2 billion US dollars.
People are becoming older, accordingly intestinal and bladder cancer cases are increasing - and correspondingly the need for ostomy and incontinence care.
The largest number of ostomy operations is performed on people between 60 and 70 years age, as a result of cancer. But even babies can be dependent on such medical care due to congenital malformations, likewise children and adolescents with chronic diseases.
Regardless of the age at which patients find themselves confronted with ostomy care, one thing is important to them all: they should be reliable, leak-proof, unobtrusive and easy to handle; allowing them to do sports, swim, and go to work. The industry aims to ensure a high quality of life for the patient.
Products with high requirements
Modern ostomy bags are made of extremely thin material. The material of choice is Polyolefin film with a two- to four-layer structure. Patients need closed or open bags which they can drain through an outlet. In many cases, an integrated activated carbon filter prevents odours. A plug-in system connects the pouch to the patient's stoma care. Leak-tightness, robustness and reliability are indispensable requirements for all components of the ostomy bag and thus for its manufacture.
Thermo-contact welding is the process of choice in the manufacture of ostomy bags. The KIEFEL GmbH, Freilassing, Germany is market-leader for machines and production equipment for ostomy bags. The TC welding lines series KXT produces during a first step stoma bags from a multi-layer plastic film hose via thermal contact welding. The film is heated to its melting point and then pressed in precisely into the contours with a force of up to 12 kN. There are virtually no restrictions to the design of the weld; in the next steps the machine makes a highly leak-proof connection of the various components to the bag with the same technology. The process is always used when it comes to the automated production of highly leak-proof containers for liquids and gases.
The KXT produces up to 2400 bags per hour in different sizes. Plug-in connection systems, filters, and plastic gaskets can be integrated immediately in the various welding stations of a machine. Both automatic material and component feed and semi-automatic machines are available. Fast tool changes guarantee a quick changeover to another model. The visual monitoring system and the complete process documentation ensure that the machine recognizes and ejects faulty products immediately.
According to a September 2013 survey conducted by the Barmer GEK Company, in Germany alone 160,000 people live in with ostomy care. For them, the high process reliability in the manufacture of bags means a little bit more ease and normality in their lives.
Market development
The World Health Organization (WHO) estimates that by 2030, 1.4 billion people will be over 60 years of age. In 2015 it was 901 million. The most common colorectal cancer operations associated with a stoma occur between the ages of 60 and 70 years - one of the main factors for the increasing demand for stoma care products.
In 2012 alone, ostomy bags achieved a market share of 1.04 billion US dollars, representing 37 percent of the total market for stoma products. The largest market volume in 2012 was the North American market at 37 percent. However, the Asian market also demonstrates rapid growth. The demand of the older population in Japan, China and India is rising by due to ever-increasing acceptance of these products.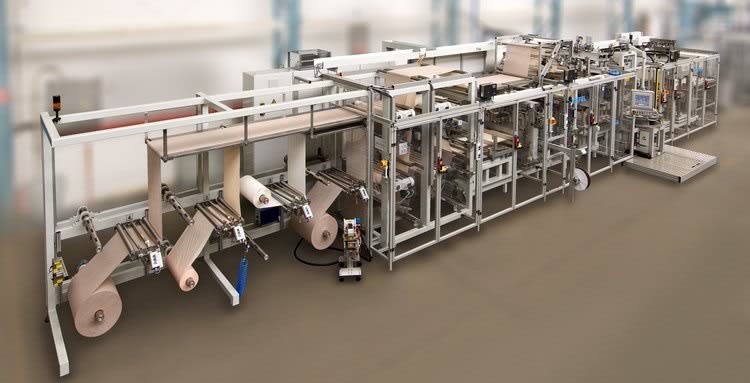 Kiefel ostomy bag machine
Source: Kiefel GmbH