Pregis announces new GeoSpeed Quantum paper packaging system; machine sets new standard for crumpled paper void-fill from rollstock.
Pregis Corp. is introducing its new GeoSpeed Quantum compact, single-ply paper void-fill system. The machine, which delivers crumpled paper from rollstock at speeds of up to 150 inches per second, establishes a new performance standard for this category.
Billed as the most user-friendly paper system on the market, the GeoSpeed Quantum also gives companies seeking a strong environmental profile, another alternative.
When designing the machine, Pregis solicited feedback from current paper protective packaging (void-fill, block and brace) users. Chief among them were complaints about downtime due to jams and paper roll changes on existing equipment.
"The GeoSpeed Quantum features a unique patented floating-head design which enables the fastest roll loading of any unit on the market. You can load a roll of paper in a matter of seconds. The system, which can easily be rotated, facilitates ergonomic operator loading," explained Joe Phister, product manager, paper systems, Pregis.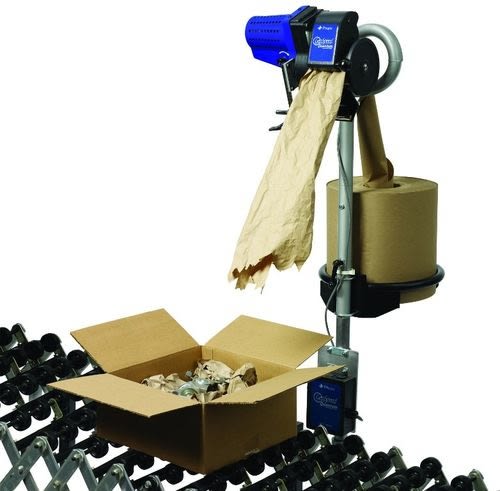 The new GeoSpeed Quantum has been designed to eliminate paper jams, unlike competitive units whose jams are said to occur frequently and can be tedious to correct. On competitive models you typically have to remove covers or use tools in order to clear the jammed paper, which can be a time-consuming process.
The company is offering two paper alternatives - a standard kraft grade which is made from a percentage of recycled content and a GeoSpeed Renew 100% recycled paper option.
In addition to its environmental benefits, Renew paper is softer on the hands and less abrasive to products than standard kraft paper. Both options are available in 12-inch wide rolls and in lengths of 2400- and 2100-feet, respectively.
"It's also important to point out that we've engineered the GeoSpeed Quantum with the operator in mind. The unit is lightweight and portable, yet durable enough to withstand the rigors of a warehouse environment. Once the machine is in position, the operator can make adjustments to suit his or her specific needs. This includes machine height, paper dispensing angles and roll repositioning to help reduce the overall footprint," said Phister.
Crumpled paper is ideally suited as small space void-fill, block/brace and light cushioning for a wide variety of products - especially items that are loose/unboxed, or have sharp edges. Typical product/markets for paper dunnage are: mail order fulfillment, electronic components, automotive parts, housewares, lighting fixtures, industrial parts, medical/dental supplies, pharmaceuticals, lawn and garden products and more.
Pregis Corporation is a leading global provider of innovative protective, flexible, and foodservice packaging and hospital supply products. The company offers packaging and product solutions for a wide variety of consumer and industrial market segments including food and foodservice, healthcare, agriculture, automotive, furniture, electronics, construction, fulfillment, catalog and military/aerospace. The specialty-packaging leader currently operates 47 facilities in 18 countries around the world.