Röchling now offers extruded round rods made of Sustarin C (POM-C) with new range of dimensions and stock products - diameter: 350-500 mm and length up to 2,000 mm.
These new dimensions mean that producers will be able to manufacture very large and complex components from Sustarin C cost-effectively in cutting processes even in small quantities.
The main properties of Sustarin C are: high dimensional stability, ideal combination of strength, rigidity and toughness, high resistance to abrasion, good machinability, low moisture absorption, low creep tendency and high flexural fatigue strength.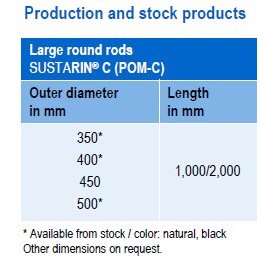 Sustarin C is ideal for components with particular requirements with respect to dimensional stability and visual appearance. Components made of Sustarin C are used for example as: housings, cable clamps and protective caps for the oil and gas industry, equipment for ROVs such as housings, grippers and connectors, gearwheels, disk cams and slide elements for machine construction and for the car industry, insulation elements and connectors for the electronics and electrical industry.