TSM Control Systems is now offering plastics producers new ways to weather the economic storm and improve their profit margins. New TSM technology focuses on, reducing production down time during order changes, reducing labor costs through cleaning automation, reducing raw material usage and avoiding unnecessary excess energy costs of scrap material reprocessing.
TSM has recognized that reducing production costs will be essential to ensure the long-term sustainability of many plastics producers. The TSM Auto-Clean available on TSM's new Opti-Mix range of gravimetric blenders, provide real options for plastics processers to cut their production costs and survive .
- We feel the pain of plastics processors and understand the problems they face. We have seen clear evidence of a slowdown in plastics production as total bookings for purchasing new auxiliary equipment in the fourth quarter of 2008 were down 33% on average for the same figure over the previous five years (SPI, March 2009) – says Tony Crook, National Sales Manager in TSM Control Systems. - In order to combat this slowdown we have focused on development orientated around reducing our customers` operating costs, directly combating the recession. The reality is that we all must pull together to improve the efficiency of plastics processing in order to brave these difficult times.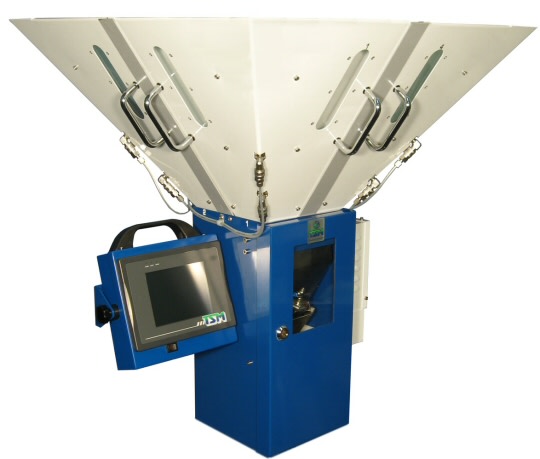 Processors can now reduce their virgin material usage with more accurate mixing and use more regrinds without the additional costs of having to re-pelletize materials thanks to TSM's Opti-Mix technology. TSM's patented Opti-Mix technology allows processors to reduce their raw material usage by increasing their regrind processing capability, while improving product quality. This unique mixing technique virtually eliminates variations due to bulk density by delivering consistent homogeneous mixing of materials of all densities. The mixing auger also creates a downward force to cram difficult regrind materials through the throat of the processing machine.
The Auto-Clean allows the entire TSM Opti-Mix blender to be automatically cleaned from floor level. The system automatically cleans the blender from the vacuum receiver to machine throat reducing production downtime and labor costs. The completely new TSM Auto-Clean allows fast automatic order changes and avoids any unnecessary safety risks associated with employees reaching elevated machines.
- We have already helped some of our current processors to achieve up to 20% reductions in their operating costs thanks to our new automation solutions. We want to help other processors recover from these hard times. It is simply a matter of processors understanding that we can and will help – adds Tony Crook.
All of TSM's cost cutting solutions will be on display at NPE 2009, McCormick Place, Chicago between June 22nd and June 26th at TSM's booth; number N85027.
Boasting over 10 000 installations in 40 countries worldwide, TSM are recognized as specialists in blending and control systems. TSM is a company focused on engineering excellence and a commitment to quality. As early as 1991 the company was accredited with the ISO 9001 quality standard, illustrating TSM's long history of superior engineering and adherence to exceptional levels of production excellence.