Kortec Inc. will introduce an all-new high barrier, multilayer molding technology that allows for molded-in color gradation to clear PET bottles.
The new Kortec MCGT (multilayer color gradation technology) allows for molded-in color aesthetics to be added to the typically clear PET bottle. The new technology is receiving much interest from brand owners producing waters, sparkling beverages and liquors.
These bottles can be produced with or without a barrier layer, according to Russell Bennett, Kortec Vice President of Sales & Marketing. The multilayer bottles are produced of 3 layers of plastic; an inner and outer layer of clear PET with a colored barrier layer of EVOH or other material. "The colored layer can be adjusted for color intensity depending on the application - he said. - It allows for very attractive decorative alternatives to the clear PET bottle."
Kortec encourages brand owners, material suppliers and converters to contact them to discuss the many packaging possibilities for this new technology. - We are already running numerous trials in our in-house molding facility to fine-tune MCGT - said Bennett. - As with all of our molding systems, we accept full responsibility for meeting and exceeding system performance goals. We work with the customer from the earliest stages of the project right through to system prove-out, delivery and start-up. We also provide complete operator training and post-sale support and service.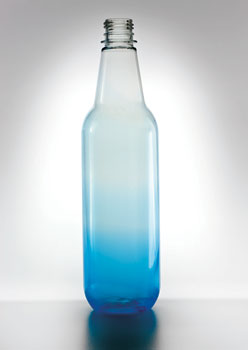 Kortec has achieved desired customer goals with a wide variety of barrier resins. Because of the versatility of the Kortec system, according to Bennett, the company can run virtually any barrier resin to optimize the molded container for each specific application. Kortec has become the preferred source for development trials of new barrier materials - he said. - As new grades of materials are introduced, many of the suppliers are contacting us because of the flexibility of our systems to run materials in many ranges, anywhere from 1 to 25% of the package content.