A new Hyperform HPR high performance reinforcing agent from Milliken & Company yields finished parts with higher stiffness and impact resistance but lower weight than talc-filled parts. It also has improved feeding and handling characteristics for compounders and yields whiter compounds – so users can cut back on colour masterbatch.
Hyperform HPR-803i, which is available now in all geographic markets, is intended mainly, but not exclusively, for use in polypropylene compounds. It will be of particular interest in automobile interior applications.
Hyperform HPR-803i can be used to partly or fully replace talc in compounds. It has the same effect on compounds at much lower dosage rates (typically between half and two-thirds lower). Adam Watson, in charge of marketing for the Hyperform HPR range, says that compounders used to handling talc will appreciate the improved flow characteristics of the new grade.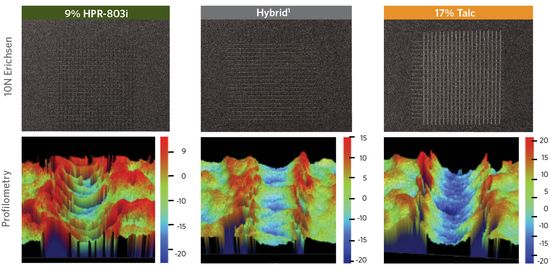 Case studies recently carried out on automotive interior trim parts have demonstrated that use of Hyperform HPR-803i enables production of parts that weigh as much as 20% less than talc-filled parts but have a better balance of stiffness and impact strength. Furthermore, the parts have a surface finish that is not only better out of the mould but is also more resistant to scratching.

While the initial target for Hyperform HPR-803i was PP injection moulding compounds for auto interiors, Watson says Milliken and its partners are continuing to find new uses. For example, moulding trials with a steam iron base plate showed Hyperform HPR-803i increased productivity compared to a talc-filled compound and yielded parts with lower warpage.

Customers have also done successful trials with foam materials as well as with extruded sheet. Hyperform HPR-803i can be used in extrusion blow moulding applications and with thermosetting resins, too.

Watson notes that trials carried out on compounds containing Hyperform HPR-803 have already shown that it is possible to produce parts with a shorter cooling time, and hence a lower overall cycle time, than with talc. This advantage is retained with Hyperform HPR-803i. Furthermore, test parts demonstrated excellent performance under thermal stability performance testing.

Recycled material exhibits little loss of mechanical properties, unlike glass filled compounds. Wear on equipment is reduced at all stages of processing.

"Our development program is ongoing," says Watson. "Partners we have worked with so far have appreciated the ability of this new additive to improve processing and in-use performance at reduced cost. We are now working with processors and end-users to identify and develop more applications that will provide benefits along the process chain."

Hyperform HPR-803i is available directly from Milliken as a free-flowing powder and can be incorporated during compounding via a side-feeder.