Multivac has received the 2008 German Packaging Award for its new generation of thermoform packaging machines. The German Packaging Institute (DVI) presented the award in the category of machine technology. This is the second major prize that Multivac has received this year for its new machine generation, after having previously been honored with the renowned iF Packaging Award.
The awarded model R 535 and R 245 can be optionally equipped with a Clean in Place system. This enables an automated and standardized chemical cleaning of the chain, chain guide profile and interior assemblies.
Multivac`s Tim Slomp, manager of the thermoforming machine department, Winfried Wolf, product manager for thermoforming machines, and marketing manager Valeska Haux accepted the award in Nuremberg on behalf of the company. - We are very pleased to have been given this distinction - said Slomp. - It confirms the value of the innovative concepts that we have realized in our machines, especially in respect to a hygienic design that is unique in our industry, as well as improved process reliability.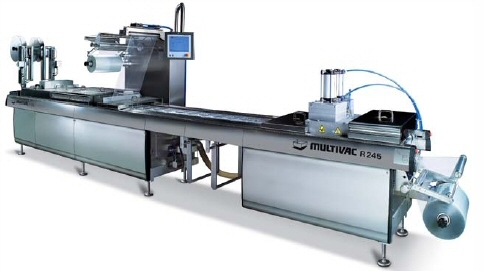 - In the food industry, consumer protection and food hygiene have the highest priority - says Haux. - The hygiene-optimized design of our new thermoform packaging machines reduces the time and costs associated with guaranteeing flawless sanitation of the machinery in food plant environments. This results in reduced downtime, and therefore higher output and productivity from the packaging machine.
This year the DVI introduced the competition category "machine technology" for outstanding technical solutions and new technologies to improve quality and efficiency in the packaging process.
In their explanation for awarding the prize to Multivac, the DVI jury emphasized the consistent hygiene design of the new thermoforming machine generation.
- Thermoforming machines with this design are primarily used to package sensitive products. Accordingly, high demands are placed on the hygiene-oriented design that have been satisfied in an exemplary fashion in the present example. The assembly of the machine and the constructive details such as accessibility, surfaces and functionality are part of a consistent hygiene design concept. The optional feature for Cleaning in Place makes it possible to fulfill high application requirements in a unique way.
The hygiene-optimized design was not only consistently realized in the exterior machine area but also within the interior assemblies, which are part of the "spray area". The transport chain with open spring coils and an open chain guide profile without dead spaces were among the components that were developed in a completely new way. This patented innovation makes it possible for contaminants to be thoroughly rinsed away without having to disassemble the chain. Up to now, the design of thermoforming machines had made this impossible.