Engel Austria has now made it even easier to use MuCell technology with a new control interface.
The development was unveiled to more than 100 users and other parties interested in the process of foam injection moulding at an international workshop. The event was organised by Engel Austria and Trexel in the Austrian town of Schwertberg late in November.
MuCell physical foaming involves the injection and homogeneous distribution of mainly pressurised nitrogen or carbon dioxide in a supercritical state into the plastic melt during plastification. Previously, only a small number of parameters in the gas injection process could be manipulated via an injection moulding machine's control system; by contrast, the next generation control system maps the whole gas supply system on the monitor of the injection moulding machine.
"There is now a flow diagram to provide a clearer overview of the whole process, including the gas supply system", says Michael Fischer, Sales Manager (Technologies) at Engel Austria in Schwertberg. "This improves understanding of the process and allows users to exploit the possibilities of the technology far better." Integrated control has also enabled Engel to simplify operation of the system as a whole.
Live demonstrations were used to emphasise the benefits of the new control system generation to those attending the workshop on MuCell-based component design. The large number of participants – more than 100 from Austria and Germany as well as France, Italy, Poland and elsewhere – was evidence of the burgeoning importance of the MuCell process.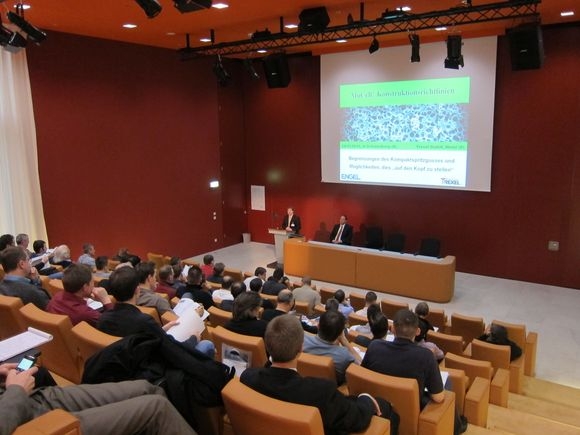 Two factors in particular are driving growth: the gathering trend towards weight reduction for lightweight construction and the low distortion of parts manufactured under the MuCell process. Thin or thick injection, no sink marks, high dimensional stability and improved rheological properties – the Schwertberg workshop illustrated how the limitations of compact injection moulding can be overcome and new design vistas opened up.
To give one example, automotive supplier Demo Injection, a subsidiary of AFE Plasturgie in the French town of Chambly, specialist for safety airbag covers and decorative parts, manufactures airbag panels using MuCell foam injection moulding. "The MuCell process offers critical advantages in reaching the highly expected cosmetics at the same time as the dimensional restrictions of the breaking points combined with the global dimensions stability", said Naoufel Menadi, Sales and Development Director at AFE Plasturgie, in his presentation.
"Thanks to MuCell, we can now produce complex and 'out-of-the-traditional-plastics-design-rules' airbag covers in a single step, which minimises our costs."
Other speakers addressed the opportunities and possibilities presented by the MuCell process as well as material-related developments. Guest speaker Thomas Olschewski of Lanxess Germany made reference to new polyamides with improved surface properties.
Engel is a global, single source supplier of full systems for MuCell foam injection moulding on a turnkey basis. Around the middle of this year, Engel Austria concluded a relevant partnership agreement with Trexel, developer of MuCell technology.