Milacron Plastics Technologies will demonstrate its M-PAK single screw extruder system at NPE 2012.
The system will be producing medical tubing with downstream equipment from Conair, tooling from B&H Tool Company, Zumbach laser and ultra-sonic gauging and resin from PolyOne.
M-PAK features modular design for built-in flexibility, lower cost and faster delivery. Ideal for producing small precise products from non-composite materials, this machine provides a combination of speed and precision that others can't match. M-PAK can process a wide variety of materials in many different applications.
Milacron's M-PAK system gives medical extruders the right technology to rise to the challenges of tightening tolerances, changing regulations and evolving material options. Features that are well-suited for medical molding include:
• Design for smaller diameter tubing in sizes from 1.5 inches and smaller.
• Stainless steel construction allowing for easy cleaning and cleanroom applications.
• Direct drive motors that eliminate belts and shifts that can create dust.
• FDA-compliant instrumentation.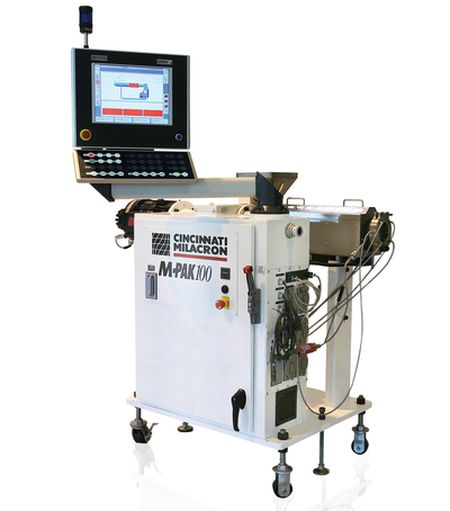 "In medical extrusion, with patient safety is on the line, precision and consistency are crucial," said Mike Puhalla, General Manager of Global Extrusion. "That's why, at Milacron, we focus on accountability – designing, fabricating, programing and controlling everything about extrusion systems like M-PAK."
The M-PAK system works with Milacron's MOSAIC control system, which monitors and adjusts processes to ensure quality output. This advanced control software helps extruders link it to other operations such as melt pumps and downstream equipment to fully optimize the production process. Attendees will be able to test drive this control system on the M-PAK while it's running at NPE.