Milacron recently expanded its line of TP Series Parallel Twin Screw Extruders to include the TP75, a machine with a smaller, 75mm screw diameter.
Designed to excel in the full range of pipe diameters for the PVC pipe market, TP Series Parallel Twin Screw Extruders provide both high torque capability and throughput rates that exceed market expectations.
With the TP75, the series now includes five models meeting throughput needs of up to 5,000 lbs./hr. The TP75 extrudes smaller products while still offering minimal screw deflection to optimize the homogeneity of the melt and maximize the productivity of the extruder.
"Previously, smaller pipe and profile applications would have required a conical twin screw machine. Now, PVC, WPC and other materials can be processed on this smaller parallel twin screw," said Mike Puhalla, General Manager of Global Extrusion. "As the most complete partner in extrusion, Milacron is determined to keep bringing new solutions like the TP75 to help our customers meet evolving challenges."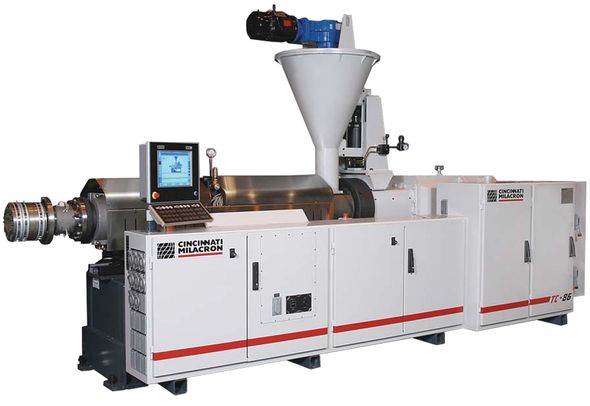 Extrusion customers turn to Milacron with confidence, knowing the company is proven and accountable for designing, fabricating, integrating controls and auxiliaries and programming every extrusion system it builds, including the TP Series. Milacron also designs, manufactures and services screws and barrels in-house to meet customers' exacting demands.
TP75 features include air- and oil-cooled barrels, with optional gearbox oil quality monitoring and a high wear package with a tungsten screw and barrel. A longer 33:1 L/D option is also available, as well as high-quality Torque Master® gearbox with internal oil cooling.
The TP75 delivers high performance and high output with PVC, vinyl and other materials. Customers get the same benefits they've come to expect with the entire TP series: strong and reliable gearbox; compatibility with heat- and shear-sensitive materials; efficient heat transfer; positive displacement pumping characteristics; optimal melt conditio.