The new 2K Dosing System is straightforward, safe, precise, reliable, and cost effective.
To explain, 2K does not refer to a specific moulding technology. The term 2K relates to the two components or parts which separate the new dosing system both in function and in quality from conventional products. Visitors to interpack, Düsseldorf, May 12 to 18, will recognise at the Medisize Corporation, guided by the product samples with 2.5 ml dosage capacity, that a dosing system has been developed for pharmaceutical liquids that is convincingly more comfortable to handle, straightforward and safe to use. The most important advantage for the user: there is no need for explanations, it is simply self-explanatory.
The 2K Dosing System is used in connection with remedies/liquids such as cough linctuses, liquid medication for the treatment of stomach and intestinal ailments, analgesic treatments, vitamins, tonics and circulation compounds, as well as psychotropic drugs, etc. to be taken orally. The system is available for use with hygiene liquids, such as mouthwashes and also for liquid foodstuffs that have to be administered in precise dosages.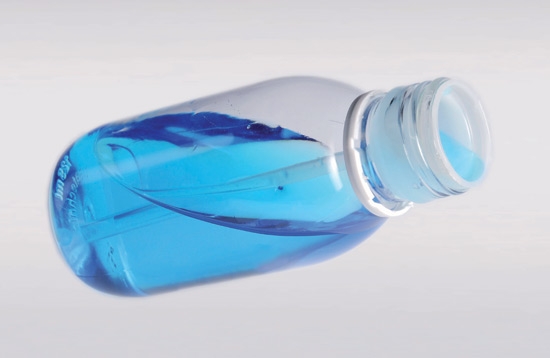 The two principal components (apart from the container and riser tube) are the dosing head and closure. Handling could not be easier. At the closure opening point the precisely measured liquid reaches the dosing head – to an accuracy of +/- 5 percent.
The Head of Development at Medisize, Dieter Veit, explains the patented system. "After a year of development and prototype mould making, we have perfected a dosing system ready for the market which operates according to the principal of vacuum pressure delivery. By turning the screw closure the dosage head is filled with exact precision. It was our aim to dispense with awkward and imprecise administration implements such as spoons, measuring cups, and bottle caps etc. One turn and filling is perfect."
Fewer component parts contribute to increased safety levels and lower costs for potential customers, primarily pharmaceutical companies, in Europe and further afield. Depending on customer specifications, the dosing head can be adapted to dosage volumes between 1 ml to 20 ml. Child safety locking, TE original closure and special geometries are available as optional extras. Currently, the bottle or container sizes correspond to the system and comprise of volumes up to 750 ml.
Depending on the application, Medisize can produce the relevant screw closures and dosing heads, injection-moulded in either HDPE or PP. The bottles/containers can be blow-moulded in either PET, LDPE or HDPE. To accomplish this, Medisize has more than 30 years tool manufacturing expertise in the medical-technical and pharmaceutical sectors. The moulds are applied using hot runner technology and usually have up to 32 cavities.
Total Quality Management & Performance is evident in every phase of production. BDE-documented quality and product safety are guaranteed under clean-room conditions class 7/8. All applicable approvals in the food and pharmaceutical sectors are in force (as detailed on www.medisize.com). QM certification, ISO and customer re-audits are carried out at regular intervals in addition to frequent quality examinations, batch tests and sampling.