Integrated manufacturing cells from a single source
"Demand for high-end solutions for LSR processing is rising fast," says Kurt Hell, Vice President of Engel's Medical business unit in Asia. "By adapting production lines to individual products and quantities, we can guarantee our customers high competitiveness. Where the components in a manufacturing cell are all coordinated from the outset, we can maximise both efficiency and quality potential."
To integrate other peripheral units and moulds alongside robots and process technologies, ENGEL has established a global network of system partners. "Here in Asia we have very strong partners who, like us, are able to implement ideal solutions because they understand the needs of local processors intimately," says Hell. "By working with local suppliers, we guarantee high cost efficiency for the most demanding applications while keeping delivery times short across the whole system." The system partners involved with the exhibit are Taiwan-based mould manufacturer H.R. Silicone and 2KM, which is represented in Asia in Guangzhou, China.
Self-optimising injection moulding machine
Furthermore, Industry 4.0, another trend gaining ground in Asia, will draw visitors to the Engel stand at TaipeiPlas. "Industry 4.0 is a major enabler of greater efficiency and quality," stresses Kurt Hell. "We are supporting our customers on the road to the smart factory by developing products tailored to their precise needs."
The modular approach of Engel 's inject 4.0 program is making it easy for processors to exploit the opportunities presented by Industry 4.0. Even small-scale individual solutions promise considerable benefits. To give one example, Engel will be presenting its iQ weight control assistance system in Taipei. During the injection process, the software analyses the pressure profile in real time and compares measured values by means of a reference cycle. For every shot, the injection profile, switchover point and the holding pressure profile are automatically adapted to current conditions and the injected melt volume is kept consistent throughout the production operation. In this way, fluctuations in environmental conditions and in raw materials are automatically recognised and readjusted before even a single reject is produced.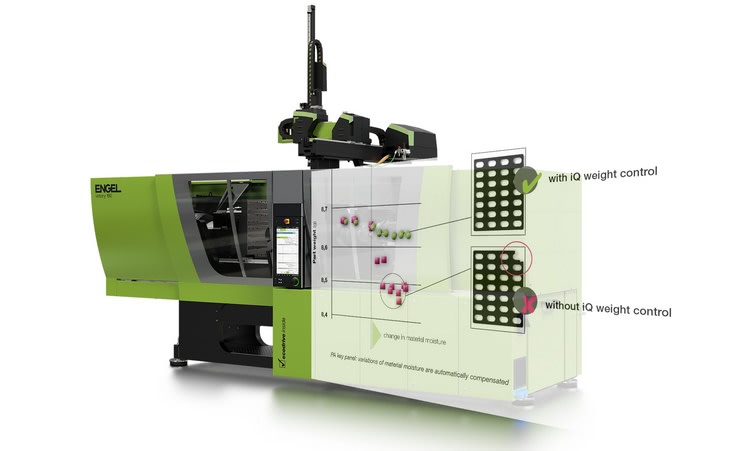 iQ weight control compensates for process fluctuations before rejects are produced.
Source: Engel