The company battenfeld-cincinnati has successfully installed more than 100 PO and PVC pipe extrusion lines for diameters from 800 mm upwards so far – convincing evidence of market leader-ship in the area of large diameter pipe extrusion lines. Thanks to its many years of experience in the production of extruders and extrusion dies, battenfeld-cincinnati can handle throughputs of up to 3 t/hr and pipe diameters of up to 2,500 mm without any problems, and with excellent pipe quality as well. Everyone can now see this with their own eyes: a film showing the production of a large diameter PO pipe extrusion line and a line of this kind in operation at a customer's plant can be viewed on battenfeld-cincinnati's youtube channel from now on.
Most of the more than 100 large diameter pipe extrusion lines in-stalled are laid out especially for polyolefin processing, the re-mainder for PVC. Large diameter pipe extrusion lines for PVC pipes have already been installed for diameters of up to 1,300 mm, di-mensions of up to 1,600 mm in diameter are feasible. With the twinEX extruder models 135, 148 and 173, battenfeld-cincinnati offers a wide range of large machines specially geared to gentle processing of this material. Optimal wall thickness distribution and excellent pipe attributes are achieved by double spider dies.
The large diameter pipe extrusion lines for polyolefin processing are installed worldwide, primarily in Europe and in the Near and Middle East. Currently, as many as 10% of these lines are actually laid out for pipe diameters over 2,000 mm. Pipes of such dimen-sions are being used increasingly as substitutes for concrete and metal pipes for fresh water and waste water transport. The reason is that, compared to conventional pipes, plastic pipes offer the decisive advantages of lighter weight, easier laying, zero corrosion and resistance against chemicals and tree roots.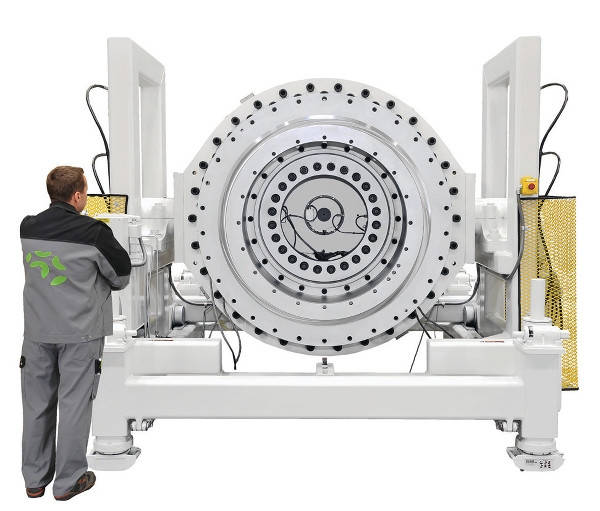 Excellent product quality is a crucial factor especially for such enormous dimensions. battenfeld-cincinnati is not only successful in producing high outputs and optimal melt quality with its extruders, but especially with its great diversity of die concepts, it also achieves optimal wall thickness distribution and ovality values, and reduces sagging as well. The latter can be attributed to a special internal pipe cooling system, which also enhances the high energy efficiency of the whole line.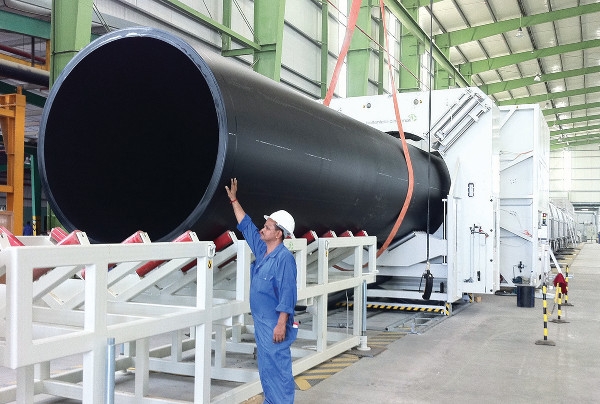 The customer Union Pipes Industry (UPI), domiciled in the United Arab Emirates, appreciates all of these advantages, too; among others, it has a 2,000-mm large-diameter pipe extrusion line from battenfeld-cincinnati on its production floor. In the youtube video, Mohámed Hageb, General Manager of UPI, explains the reasons the UPI management's decision in favor of the Austrian-German machine manufacturer as follows: "Besides quality attributes such as excellent wall thickness distribution and low ovality, we have come to appreciate above all the energy efficiency of the line and its reduced overall length. With its tooling concept, which includes efficient internal pipe cooling, this large diameter pipe extrusion line can operate with a shorter cooling section than conventional models. This saves us production hall space, energy and material as well, thanks to the optimal pipe dimensions. These are prime conditions for cost-efficient production of large-diameter pipes."