Quality is the paramount criterion, particularly when it comes to higher-priced premium juice or sophisticated milk-based mixed drinks.
For both these product segments,
Krones
AG, Neutraubling, Germany, has developed a process that rigorously covers all the qualitative aspects involved, from production to filling. This ensures exceptionally gentle treatment of juices and milk-based mixed drinks containing whole fruit chunks.
In order to preserve the structure of the fruit chunks and avoid costly product losses, there has to be stringent separation between the juice or milk-based mixed drink and the fruit chunks in the process technology as well. This means the juice or the milk-based mixed drink is treated in its own dedicated process, while the fruit chunks, measuring up to 10 x 10 x 10 millimetres, are pasteurised elsewhere in a separate shell-and-tube heat exchanger with interior cross-corrugated tubes. To ensure gentle product treatment geared to maximised quality, Krones has developed the entire process technology required.
Rigorous separation and gentle product treatment are also continued in the filling process, featuring Krones' new FlexiFruit pre-dosing equipment for fruit chunks or pulp. In the pre-dosing system, first the fruit chunks are inserted into the bottles, and then the juice or the milk-based mixed drink is added in the main filler. This twin-flow process is already being used with great success. Thanks to holistic systems engineering, Krones is able to offer a seamlessly integrated concept subsuming both process and filling technology.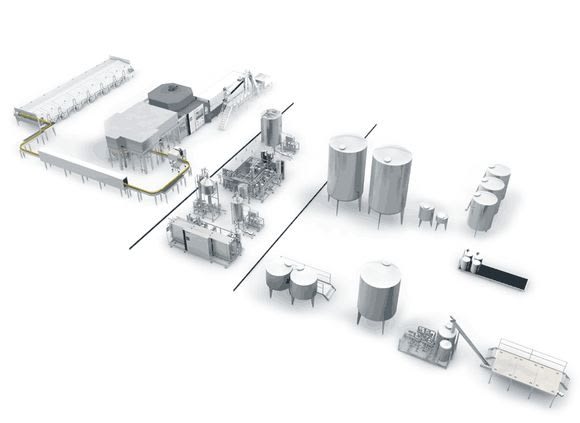 Krones some time ago market-launched its own EvoGuard series of valves, which includes all the valve types required in a beverage plant. Starting with disk valves in modularised design, plus single-seat valves for simple shutoff operations at pipes, double-seal valves as an affordable alternative for media separation, all the way through to double-seat valves for highly automated function sequences.
The very latest innovation, to be premiered at the Anuga FoodTec trade fair, is aseptic valves that are used as seat valves for hermetically dependable shutoff of pipes or as aseptic double-seat valves for separating media in aseptic and sterile processes.