Fortlev, Brazil's biggest manufacturer of plastic tanks and cistern systems has again decided to invest in KraussMaffei Berstorff production lines.
The company placed a substantial follow-on order for pelletizing systems and pipe lines to produce U-PVC pipes and profiles. As Brazil's leading manufacturer in this sector, Fortlev sets a high priority on quality and in consequence is keen to do business with KraussMaffei Berstorff.
Factors in favor are the high quality engineering and local presence
The successful business relationship between Fortlev and KraussMaffei Berstorff began a year ago with a large order for a PVC pelletizing system and extrusion lines for production of U-PVC pipe. A short while later Fortlev placed a follow-on order for around the same amount.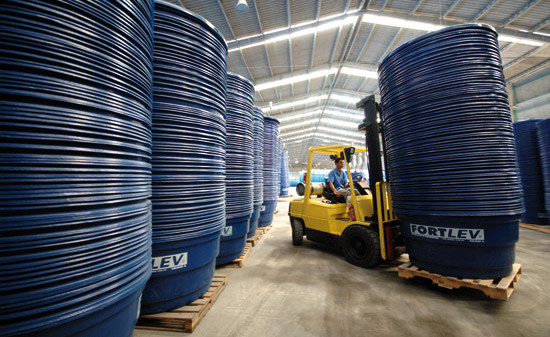 "From the start, the customer was won over by our engineering competence and process know-how, as well as by the outstanding quality of our machines," emphasized Bruno Sommer, in charge of Extrusion Technology at KraussMaffei's Brazilian subsidiary.
"Another major factor in Fortlev's purchase decision was and is our ability to react very rapidly when customers need service and support. Our experienced, local service team are ready to provide rapid support for customers at any time," says Bruno Sommer.
Fortlev has been very satisfied with the speedy commissioning of the systems, and the earlier good experience has led to another follow-on order. This new order includes two KME 150-36 B single-screw extruders used for pelletizing the MDPE material at a rate of 1450 kg/h. The pellets subsequently undergo a micronization process and the powdery material is used in rotomolding water tanks.
Expanded product portfolio for the profile sector
The Brazilian company, headquartered in Vitória - Espirito Santo and with a network of more than 24,000 sales offices, is adding profile extrusion to its product portfolio. In view of the previous good experience with KraussMaffei Berstorff, Fortlev has again settled on machinery and systems from this supplier. The U-PVC profiles produced on the new extrusion lines will be used in roofing systems.