CX 200-750: More freedom in design thanks to inductive mold heat-balancing
At NPE, a CX 200-750 with inductive mold heat-balancing creates impressive surface effects together with Roctool (HD plastics) without additional post-mold processing. "The design options in the technology are immense. Whether it is shades of colors, hologram, glossy or matte effects, everything can be done in the one-shot process without additional post-mold processing such as film decoration or (secondary) painting," says Caprio. At NPE, the CX 200 with a 16-cavity mold produces 16 different surfaces (design variants) of a plastic housing for a game console.
The CX 200 from KraussMaffei scores points in this application with its outstanding performance as an extremely cost-effective and precise two-platen machine. This includes, for example, the drive concept according to state-of-the-art technology (IE3 types) as well as the energy-efficient BluePower servo drive. An active accumulator management system completes the overall concept. As a two-platen machine, the CX series requires less installation area than longer three-platen models. Under the clamping unit, it provides space for peripheral devices and all kinds of demolding systems. During NPE, an LRX 150 of the new generation of linear robots will demold the components. In the next step, the component and the sprue are separated. Finally, the bagging and packaging are carried out. Thanks to the space-saving design, this can be completed within the protective enclosure and saves on the footprint required for infeed.
Reliably linked with Plastics 4.0
Industry 4.0, Internet of Things or just the networking of machines and production processes: KraussMaffei is advancing this development under the umbrella term "Plastics 4.0" and presenting solutions at NPE that can help customers increase their productivity and efficiency in the long term. "This fourth industrial (r)evolution will radically change the working world. One example is automatic optimization of intelligent machines, which ensures that processes are stable," says Caprio. This includes the KraussMaffei APC plus (Adaptive Process Control) intelligent machine function, which can be used to quickly compensate for disruptive fluctuations and environmental influences in the manufacturing process. Another product from the Plastics 4.0 portfolio is the DataXplorer. The system provides a nearly microscopic look at the process, enabling users to respond to unclear fault patterns. Depending on the machine's equipment, it displays up to 500 high-resolution signal paths, visualizes the signal paths, and makes them available for evaluation. Visitors at NPE can use the FiberForm and Roctool application to experience this system for themselves. A QR code on the component or bag gives them direct access to the specific production parameters, for example the curves for heating the organic sheets or the injection pressure.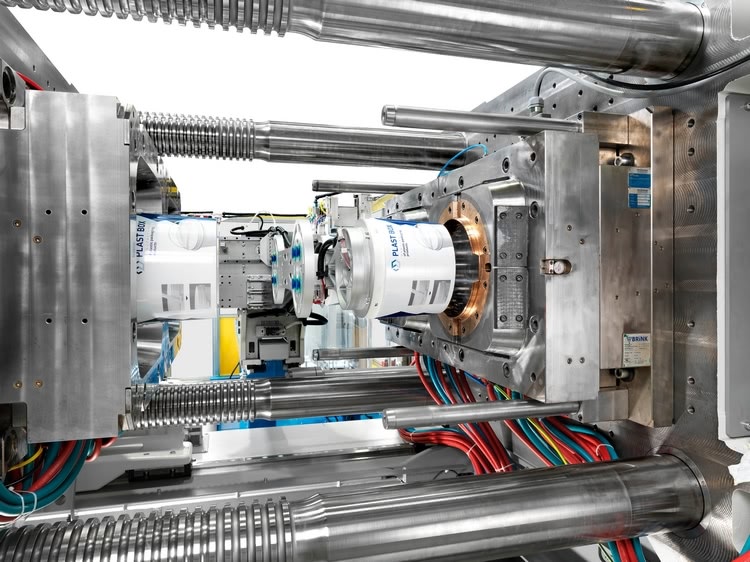 Ideal for large packaging: Injection molding machines from the KraussMaffei GX series provide plenty of space for large molds and cooling water systems
Source: KraussMaffei