First-class surfaces for large components
The long-fiber injection process is KraussMaffei's established series system solution for fiber-reinforced lightweight construction. "The long-fiber injection process is ideal for large-format, complex and simultaneously thin-walled parts. Typical end applications include finishers for trucks, commercial vehicles and agricultural machines. Here, we continue to see incredible potential in the market, particularly in China and the US," says Zimmermann. The high degree of automation ensures short cycle times. The high fiber volume content of up to 50 percent guarantees high component stability and low weight at the same time. LFI components feature high temperature stability and excellent impact strength and have surfaces that can be used directly off-mold. At JEC, KraussMaffei is presenting a series component for a tractor side cover.
Clever combination of UD tapes and FiberForm
Extrusion specialists KraussMaffei Berstorff have raised their game even further in the FiberForm process with UD tapes. UD tapes feature unidirectional reinforcement fibers made of materials such as glass or carbon that are embedded in a thermoplastic matrix. "UD tapes are the ideal basis for organo sheets for the FiberForm process. We can't wait to show customers our rock-solid system expertise at JEC. We're taking our expertise from extrusion and thermoplastic lightweight construction and bundling it with injection molding technology to develop new and ingenious solutions in lightweight construction," states Hilmar Heithorst, Product Manager at KraussMaffei Berstorff.
Another important application for UD tapes is in thermoplastic composite pipes (TCP). A TCP system wraps UD tapes around plastic pipes and then melts the layers. This composite material and the orientation of the longitudinal fibers gives them incredible pressure resistance and makes them exceptionally well suited for the requirements of the oil and gas industry.
In developing the UD tape technologies, KraussMaffei is working hand-in-hand with the Fraunhofer Pilot Plant Center for Polymer Synthesis and Processing (PAZ) in Schkopau, Germany. Since 2017, the Center has had a new UD tape system, the world's largest melt-impregnation plant. The UD tape system achieves an impressive manufacturing speed of up to 20 meters per minute at processing temperatures up to 350°C.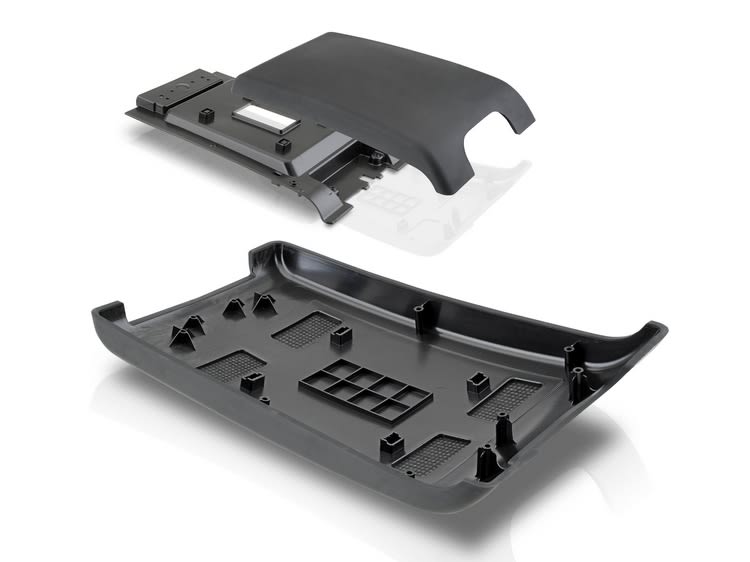 Functional and visible components with partial reinforcement in the one-shot process: The combination of multicomponent technology and FiberForm opens up countless opportunities for functional lightweight construction in visible automotive parts.