KraussMaffei Berstorff has installed a new rubber profile production line in its technical center in Hannover. The state-of-the-art extrusion line features new functions designed to enhance productivity and give rubber processing companies unparalleled flexibility.
"With this modular line, sophisticated sealing profiles for the automotive and building industries can be produced in a single working cycle", explains Harald Hepke, Head of Rubber Technology at Hannover-based KraussMaffei Berstorff.
"Thanks to the different vulcanization systems, shock modules, microwave and hot-air channels, our new profile production line gives uncompromising process flexibility combined with exceptional ease of operation", adds Hepke. The premium-quality components of the high-performance Vac GE 90 KSL x 20 D extruder generate substantial added value. This applies to the energyefficient water-cooled asynchronous three-phase motor, the enlarged feed roll opening for improved material feeding and the high-quality materials used for barrels and screws to minimize wear. The tailored barrel degassing system was developed for processing a wide variety of different compounds under ideal process conditions and with maximum output rates. Thanks to the modular line configuration and the revised design of the extrusion head, the extruder is easily adapted to the most varied applications.
The microwave and hot-air channel has been continuously improved on the basis of the proven standard. Thanks to the pneumatic door adjustment, setup and cleaning times with frequent material changes are substantially reduced. The hot door inside is automatically lowered in frame direction, which provides easy access to the product.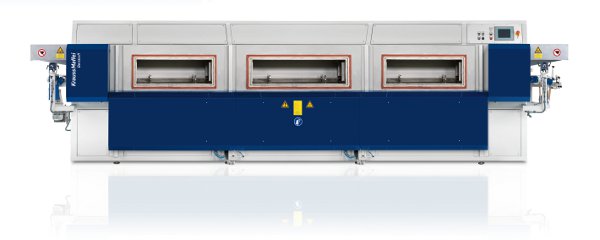 The closed-circuit process air circulation gives maximum cost savings as the air is centrally heated and 90 % of the energy-consuming hot air remains within the circuit. The 1.5 kW magnetron units of the microwave channel are continuously adjustable. A circulator integrated into the energy supply transfers the energy that is not absorbed by the product to the connected water load, which results in longer magnetron service life. Each of the three modules is equipped with four 1.5 kW magnetrons, i.e. each module supplies a magnetron power of 6 kW. This channel features a total installed magnetron power of 18 kW. The microwave generators are arranged above and below the conveyor belt.