Managing director, Bernhard Rupke, gives a status report as well as an outlook to the future of the company.
Introduce please the Hekuma company.
Bernhard Rupke: -
Hekuma is a leading manufacturer of high performance automation systems for injection molding and the plastics industry. With more than 35 years of experience, Hekuma linear robots, up- and downstream automation systems offer highest performance in acceleration, speed, and position accuracy, even at high payloads.
You took up your position as Hekuma-CEO on June 1, 2009, at the worst time of the crisis. How has Hekuma GmbH developed since then?
- Like all companies in the capital goods industry, - Hekuma included was affected by the marked economic slump in the years 2008 and 2009. Sales volume loss of around 40 percent was considered to be manageable. Accordingly, the capacity and cost budget had to be adjusted. In particular, I would like to include in this context the support of our parent company, the Elexis Group, to which Hekuma belongs to since January 2000.
They gave us the necessary support and stability during this difficult phase. Hekuma GmbH has excellent core competencies in high- performance automation. These were strategically defined to the business areas medical, automotive and consumer goods. Corresponding technology and product development were further advanced for each business.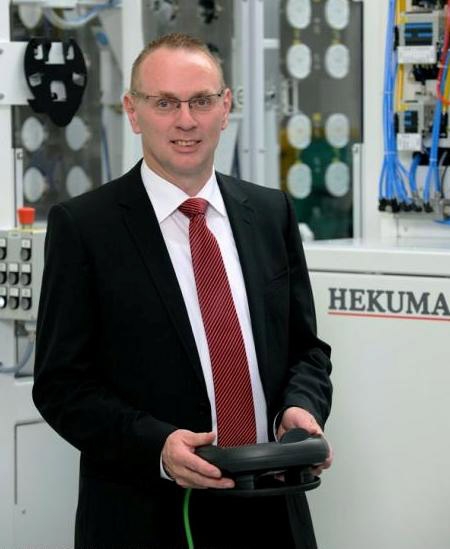 Can you already give a first indication, in which direction has the Hekuma range developed?
- The main objective was to implement the existing core competencies in the field of robotics, gripper technology, and automation technology in the injected molding automation, with short cycles and high cavitation, in industry-specific and market-driven products.
The emergence of Hekuma GmbH is now focusing on the above-mentioned sectors, with an approximate global alignment. The overall strategy of Hekuma applies to innovatively promote the high performance niches in these industries.
How do you see the market developments in medical technology for Hekuma GmbH?
- The market for medical technology is an ever-growing, for Hekuma very interesting and important market. In this area we have standardized and modularized more automation solutions, in particular for the production of Petri dishes, pipette tips, wells, and cuvettes.
High availability in the production of these challenging products is the demand of our customers. In addition, we complement our range with individual, customized automation solutions. In both cases we want to be a partner to our customers in the necessary qualifications and validations in the medical field.