The all-electric IntElect will demonstrate flexible automation concepts for medical engineering and consumer goods applications at the "Precision" Cluster Meeting, hosted by the Wiehe factory of Sumitomo (SHI) Demag Plastics Machinery GmbH.
The manufacturer, known for its high-precision injection moulding machines, has teamed up with partner companies to design the systems, both equipped with six-axis robots.
An all-electric cleanroom injection moulding system will produce hearing aid components via micro injection moulding, and another all-electric IntElect – fully automated – will manufacture transparent business card cases that are filled with a giveaway. In addition, an IntElect 160 will mass-produce precision articles for the medical industry.
The smallest model in the IntElect series, an IntElect 50-45 with 500 kN clamping force, will be seen making polyacetal (POM) control knobs for hearing aids (diameter 3.5 mm) in a cycle time of 10 seconds. The precision mouldings weigh 10 milligrams from a shot weight of 280 milligrams and are manufactured in a 4 cavity cold-runner mould from Stamm AG, Hallau/Switzerland.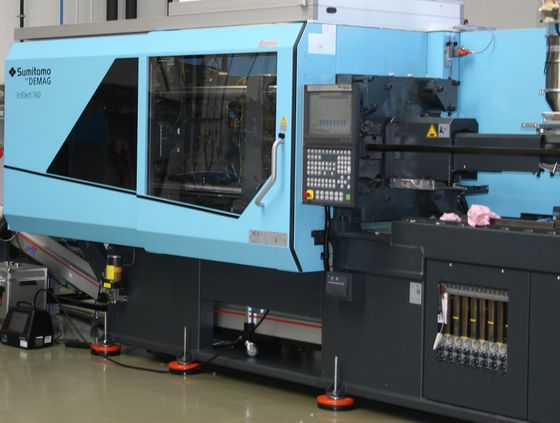 A cleanroom-compatible cabin and a laminar flow unit from Max Petek Reinraumtechnik, Radolfzell/Germany, above the mould mounting area easily transform the IntElect machine into an all-electric cleanroom injection moulding system.
A specialist for automation solutions, MAi GmbH & Co. KG, based in Küps/Germany, integrated the six-axis robot from Yaskawa Europe GmbH in the injection moulding machine's cleanroom area. The guarding is extended by only 200 mm on the non-operator side.
The robot is suspended on the stationary platen. This design keeps the cleanroom compact, the masses to be moved low, and the robot's strokes short – while minimizing the risk of contaminating susceptible mouldings as they travel from unloading to inspection to packaging. Still within the cleanroom cabin, each control knob is subjected to a complete, fully automatic optical inspection.
Even in its basic configuration, the IntElect series is perfectly suited to producing mouldings for medical engineering. With excellent reproducibility and outstanding process capability values, combined with a high level of reliability and availability, the all-electric precision machine from Sumitomo (SHI) Demag is ideal for zero-defect production of mouldings for medicine or medical engineering.
Equipped with the switchable "activeLock" non-return valve, the Cluster Meeting exhibit achieves extremely high process consistency. With activeLock, the melt runners of the non-return valve are briefly sealed prior to injection. This ensures a very small and constant melt cushion in front of the screw, which in turn guarantees consistently high product quality for precision mouldings and very low shot weights.
The consumer goods application likewise requires high reproducibility. An all-electric IntElect 100 (1000 kN) will be seen producing transparent business card cases in a mini suitcase shape. The upper and lower shells of the case are manufactured in a 1+1-cavity mould from Licefa Kunststoffverarbeitung GmbH & Co. KG, Bad Salzuflen/Germany, from a shot weight of 28.5 g and with a cycle time of 12 seconds. The material: clarified metallocene PP from Total Petrochemicals, which delivers high transparency and superior gloss.
Sumitomo (SHI) Demag developed the flexible automation solution for this application together with ICS Industriedienstleistungen GmbH, Rossleben/ Germany. ICS chose a six-axis Kawasaki robot, and suspended it on the non-operator side. This robot will remove the upper and lower shells from the family mould and assemble them into a mini suitcase outside the injection moulding machine. After that, the robot will fill the cases with gummy bears and present the complete giveaways to visitors.
The IntElect series is also a perfect fit for mass-producing medical precision articles such as pipettes and cuvettes. Together with the mould manufacturer Schöttli AG of Diessenhofen/Switzerland and the cleanroom specialist Max Petek Reinraumtechnik of Radolfzell/Germany, Sumitomo (SHI) Demag will present a compact, all-electric cleanroom injection moulding cell.
The IntElect 160 (1600 kN), equipped with a laminar flow module from Petek, will be seen producing syringe cylinders weighing 1.25 g (shot weight 60.2 g) with a 48-cavity hot-runner mould from Schöttli. Schöttli's own hot-runner system with lateral gating makes the cleanroom-compatible 48-cavity mould very compact, enabling high cavitation in a very small space.
However, the all-electric machine has more to offer than an economical mould concept. Inside the powerful cleanroom cell, it will demonstrate another advantage that comes as standard: The nozzle subassembly and the ejectors move in parallel, allowing the compact system to achieve short cycle times of only about 8 seconds.
A particle measuring device will show visitors the cleanroom quality currently achieved. The manufacturer systematically follows the "just-enough" principle to obtain the required level of cleanliness for the respective production environment as efficiently as possible.