The Infrastructure Division is also showcasing the new RTA 250+ automatic pipe cutter at the trade fair booth, which, similar to its established predecessor models, operates with circumferential cutting tools. Thanks to a sophisticated mechanism, these function completely without electrical drives or hydraulics on the rotating cutter. A novelty is the modular design of the RTA 250+, which enables pipe manufacturers to cut both PVC pipes (machined) and PE pipes (non-machined), as well as process pipes of different sizes, ranging from 32 to 250 mm in diameter, and use between 1 and 6 cutting tools, depending on the material the pipes are made of.
According to customers' preferences, the drive system for the cutter can operate either with a pneumatic cylinder to power the infeed stroke or with an electro-mechanical drive. In the latter case, the infeed stroke is triggered fully automatically and can be adjusted instantaneously to different pipe diameters via the control system without any interruption for changeover. Processors can also choose between an AC and a DC motor from the modular system to power the travel drive, depending on whether they need to cut the pipes to standard length or high-precision lengths.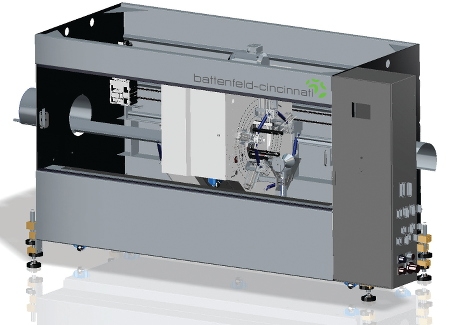 Apart from extreme flexibility due to its modularity, the new cutting system offers an outstanding technical performance: pipes with wall thicknesses of up to 50 mm can be cut at a maximum speed of up to 30m/min.
Last but not least, the RTA 250+ features an excellent energy balance. Since it functions without drive motors in the cutting blades, the automatic cutter operates with an extremely low energy consumption. Where DC drives are used, the reclaim of deceleration energy yields an additional increase in efficiency.