At the same time, the extruder combination is extremely user-friendly for connecting extrusion dies, thanks to the coextruder's flexible frame design. The equipment's user-friendliness is further enhanced by a common control cabinet, one control unit serving both extruders, and a central plug, by which the die can be connected quickly and easily and without the risk of errors.
Infrastructure: less energy consumption without gears
The Infrastructure Division is rolling out a new machine series for this year's convention of the plastics world in Düsseldorf. Only three years after the premiere of the new solEX high-performance single-screw extruder series, battenfeld-cincinnati is now presenting the solEX GL (gearless) series. The four models of the new series with screw diameters of 45, 60, 75 and 90 mm stand out by their excellent product quality, achieved with low melt temperatures', low energy input and an optimal capital/output ratio.
These machines also operate with a new drive concept to fit in with BlueCompetence. The high-torque motor used operates more energy-efficiently than a combined motor-and-gearbox drive system. Additional benefits of the new drive are low noise and vibration levels and virtually no maintenance requirements. Through dispensing with gears, the design of the new extruder has also become even more compact, so that high performance is offered with a minimal footprint.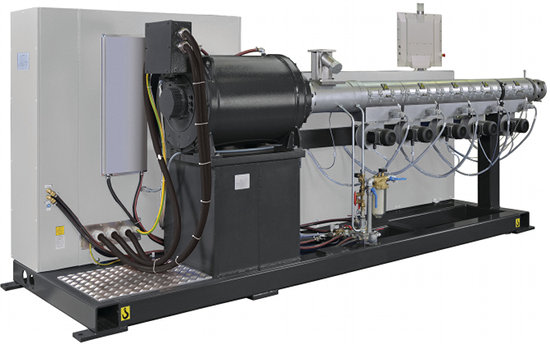 Packaging: high performance – low energy consumption
The Packaging Division also emphasizes the significance of BlueCompetence with its exhibits by presenting extrusion equipment which enables energy and material savings while still providing high performance.
The high-speed single-screw extruder on display with a screw diameter of 75 mm and a 40 D processing length requires up to 25 % less energy compared to a conventional extruder with equal performance. This extruder also ensures optimal melt attributes in the production of film from a great variety of materials, including PS, PET, PP and EVA and even coextruded products. The processing machine reaches outputs of up to 2,000 kg/h with a minimal footprint.