Filtration technology
Fully automatic Rotary Filtration Systems with integrated back-flushing for the widest range of different applications
Gneuss Kunststofftechnik GmbH from Bad Oeynhausen (Germany) will present a number of modified Filtration Systems, focussing on self-cleaning (backflushing)
The highlight among the Filtration Systems on the Gneuss stand is the RSFgenius 330 which is the second largest Filtration System in the Gneuss range. The unit on display is destined for a BOPET line in Asia where it will operate with a filtration fineness of 20 μm. The patented RSFgenius Filtration Systems operate fully-automatically, process and pressure-constant and with a back-flushing system with unmatched efficiency. They are therefore especially suitable for demanding applications with high quality requirements.
An additional fully automatic Rotary Filtration System RSFgenius, type RSFgenius 175 will be exhibited, together with a process-constant automatic filtration system SFXmagnus 150 and an SFXmagnus90 R with integrated back-flushing. The SFXmagnus range of automatic screen changers is characterised by an extremely large active area in a compact unit. This range of screen changers is available with or without an integrated back-flushing piston depending on the exact requirements of the process.
Both the RSFgenius as well as the SFXmagnus ranges have been completely revised during 2016. Modifications to the screen changer housings permit operation on a wider range of applications at higher pressures, whilst offering enlarged active filtration areas. Components and modules have been commonised between the two ranges in order to offer even more attractive value for money and shorter delivery lead times.
New for PVC processing is the SFpvc R, a further development of the SFpvc which was premiered at the last K 3 years ago. Both models are designed specifically for challenging PVC recycling applications but the new SFpvc R offers for the first time an integrated self-cleaning (back flushing) system whilst maintaining absolute process-constant operation.
Last but by no means least, Gneuss will exhibit a KF 75 screen changer at the K. The KF range of continuous Rotary Disc Filtration Systems is designed specifically for applications with frequent material type, grade or colour changes. The KF screen changers are especially compact and offer excellent value for money. They permit simple and quick screen changes on the fly.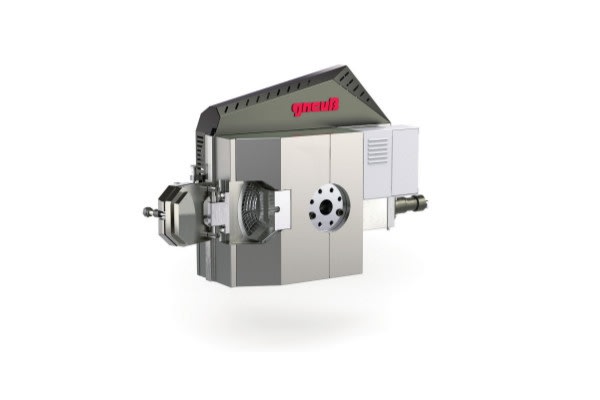 Rotary Filtration System RSFgenius