White Rock Distilleries extends the use of PET for Pinnacle Line of imported French Vodka.
White Rock Distilleries, a leading manufacturer and importer of fine spirits and liqueurs, has expanded the use of PET in its Pinnacle line of imported French vodka by introducing a 375mL replica bottle from Amcor PET Packaging which mimics the unique and attractive appearance of the company's 1.75L PET container.
White Rock converted its 1.75L size from glass to PET in 2006 – a move that helped trim costs while still preserving the Pinnacle brand's unique image. The same cost and aesthetic considerations drove the launch of a brand new 375mL size, targeted at specific demographics and geographical regions, according to Joseph Werda, White Rock director of operations. - For an upscale brand like ours, the ability to retain our premium look and realize a cost advantage was a win-win situation - said Werda.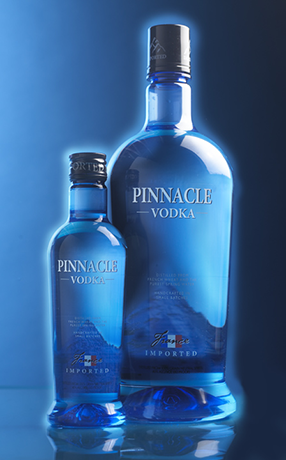 The 375mL replica bottle was able to retain the up-scale, distinctive look of the larger container. The same proprietary design is adapted from the larger container, providing a sleek, new-age look with tapered pedestal design, footed base, andtapered body in a translucent blue color. The 44.5g custom bottle also provides a glass-like appearance, just like the 1.75L container.
Besides typical plastics benefits like light weight and break resistance, other key advantages over glass include 50% lower mold costs and a 50% lower minimum bottle run which allows for better inventory management and more flexible product trialing.
An interesting feature is the metal ROPP closure which is uncommon in PET. Amcor engineers worked to optimize the design so the bottle had high topload strength, allowing the use of the metal closure which matches the rest of the Pinnacle brand look.
The 375mL Pinnacle Imported Vodka product is available nationally. White Rock also uses PET in a custom replica bottle for its Pinnacle 50mL product and stock custom blue bottles for the 200mL and 375mL Pinnacle flask brands and the 750mL Traveler brand.
White Rock Distilleries, based in Lewiston, Maine, is a leading manufacturer and importer of fine spirits and liqueurs. The company operates a state-of-the-art facility on ten acres in Lewiston. The company has been in business 68 years and has six bottling lines, more than 150 brands, and a capacity in excess of five million cases.