Hybrid F 220 produces fruit cups using the barrier injection mold process
With the Coinjection Molding, Ferromatik Milacron now offers options in multi-component technology to make barrier injection molding in the thin-wall packaging market profitable. Synergy effects are being used within the Milacron Group and the components of the individual Milacron brands are interlinked into an effective system. At Fakuma a complete system consisting of a Ferromatik Milacron F 220 injection molding machine with Kortec Coinjection Molding technology and one Mold Masters injection unit will be displayed. Using a 4-fold mold, the unit makes cups to be filled with fruit compote. The system components are controlled such that both melts prepared in the injection units are overlaid across the hot runner and the closing needle technique and solidify into a barrier packaging inside the mold.
The hybrid F 220 injection molding machine with 2,200 kN clamping force is the center of the system, with its control allowing the inter-action of the components and the production of the fruit cups made of PP which have a wafer-thin EVOH layer in their core. This layer serves as barrier and allows long shelf lives for the fruit compote. The cups are injected with a cycle time of about 7 sec.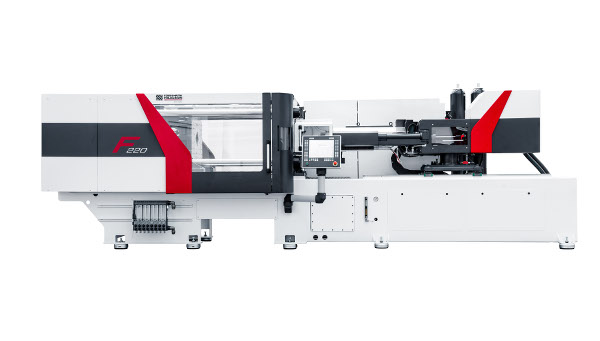 Fully automated production cell makes glueless disposable syringes
At the heart of this unit is a Ferromatik Milacron F 120 injection molding machine. For applications in the medical parts sector, Ferromatik Milacron offers injection molding machines with special medical equipment. Amongst these are stainless steel covers as well as FDA conforming lubricants and, on demand, a GMP documentation. Thus, hygiene requirements are met.
The F 120 with 1,200 kN clamping force is equipped with an APh 35 injection unit and a 3-zone screw with 20 mm diameter. With its highly efficient needle singularizing system and a 4-fold mold made by Zahoransky Formenbau, D-79108 Freiburg, the machine produces disposable syringes with needles without needing glue. The needles are placed into the mold, aligned and sheathed. At the same time as the needles are placed in one mold half, the ready injected parts are removed in the second parting line.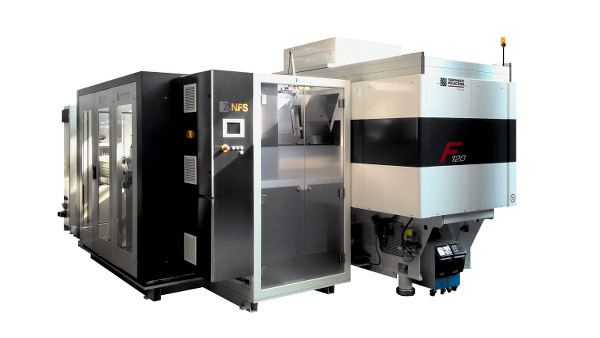 All-electric Elektron 30: cost-effective and highly efficient
The Elektron 30 with all-electric drive which was launched about a year ago was very well received. It is often used in the medical sector.
Since no oil is used, Elektron machines are excellent for medical applications and food packaging and ideal for clean room operations. Servo-drive components guarantee a long-term part quality.
At their booth #3203 in hall B3 Ferromatik Milacron will show an Elektron 30 with an injection unit with international size 55. On this machine applicators for 1 ml medical ampoules on a four-cavity mold in a cycle time of 9.1 s, and a part weight of 1.6 g. will be produced.