During the fourth quarter, Borealis announced an investment of EUR 17 million to increase the efficiency and production capacity of its Borstar polyethylene plant in Porvoo. Preparations for the EUR 75 million investment in a new semi-commercial catalyst plant in Linz, Austria are on track with the groundbreaking planned for early 2011. On the product innovation side, Borealis was pleased to receive the Frost & Sullivan 2010 Global New Product Innovation Award in the category "Automotive under the Hood Plastics." This award recognises the unique capabilities of Borealis Xmod™ polypropylene (PP) compounds, which were used for the first time in an air intake manifold application.
In the area of corporate social responsibility, the Borealis Social Fund made donations totalling AED 1.5 million (ca. EUR 300,000) to a number of UAE charities including the Emirates Foundation and the Red Crescent Fund. Another highlight was Water for the World's third anniversary which Borealis and Borouge celebrated at K 2010, the number one trade fair for rubber and plastics worldwide. So far, the CSR programme has reached out to more than one quarter of a million people globally.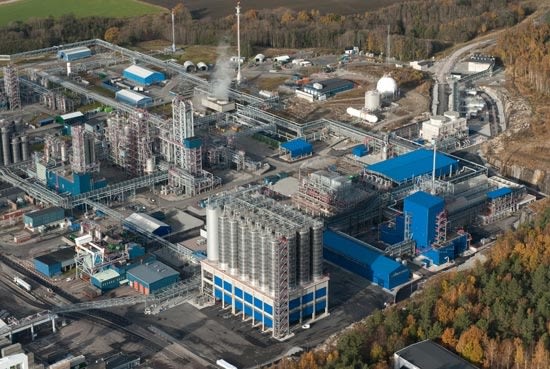 Through its ongoing project Borouge 3, the company is further expanding the petrochemical plant in Abu Dhabi by 2.5 million tonnes per year to a total annual capacity of 4.5 million tonnes by mid-2014, creating the world's largest integrated olefins/polyolefins site. Just recently, in January 2011, Borouge awarded the final major contracts for the project to Alpine Bau Deutschland AG to construct the non-process buildings and to Hyundai Engineering & Construction for the construction of a cross-linkable polyethylene (XLPE) unit.
"We are very happy with our achievements in 2010. Our cost competitiveness and efficiency initiatives have all paid off allowing us to maintain our financial fitness," says Borealis Chief Executive Mark Garrett. "Nevertheless, we need to remain cautious as it remains unclear whether the global economy has truly emerged from this recession into a new period of stable growth. We will continue to focus on commercial and operational excellence and our commitment to Value Creation through Innovation."
"Based on our solid financial position and with the support of our strong owners, we remain committed to our international growth ambitions," Garrett continues. "We currently operate one of the youngest asset fleets in Europe and to maintain this, we will continue our successful investment strategy. The additional capacity of Borouge provides an ideal opportunity for future growth and to jointly expand our value creating solutions worldwide."