Erema chose to take and also a subsequent honour for the founders and their innovative ideas. Over the years the company founders gradually reduced their involvement in the running of the business and handed over the managerial positions to the next generation around the year 2000.
In 1992 Erema's sales topped those of its competitors for the first time and it has remained the undisputed global market leader for plastics recycling systems ever since.
Some 300 complete, individually configured recycling plants now leave the Ansfelden works every year. A good 300 qualified suppliers, mainly from Upper Austria, southern Germany and the Czech Republic deliver parts and components to Erema on a just-intime basis for final assembly. Extruder screws, know-how parts and high-tech components such as the filter discs for Erema's laser filter come from Erema's own subsidiary 3S, founded in 1992 in Roitham, near Gmunden (likewise in Upper Austria).
Erema has become established through innovative technologies, premium quality and the sheer cost effectiveness of its recycling plants.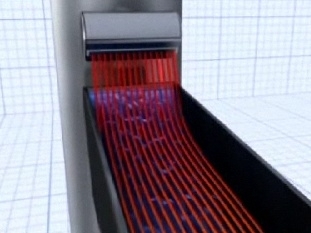 - Innovations for the benefit of our customers have been and always will be our guiding principle. The number of what is now over 600 international patents that secure our technological leadership grows yearly. In all our new developments and modifications we focus rigidly on the benefits for our customers, whether it's recycling valuable, sorted production waste or reprocessing the ever increasing amounts of global post-consumer waste - says Gerhard Wendelin, CEO and Managing Partner at Erema.
Wendelin adds: - We have set ourselves the target of continuing to shape the field of thermoplastic recycling with our wealth of experience for the next 25 years as well, with a proactive approach, high quality and leading the way in the process.
Since it was founded in 1983 Erema has specialised in the development, manufacturing and worldwide distribution of plastic recycling systems and technologies for the plastics processing industry. With its own sales and service companies in the USA, China and Japan, plus around 50 local representatives in all five continents, Erema is able to realise custom recycling solutions to match any individual application requirements.
Innovative, stable technology and global service support ensure that owners enjoy the maximum benefit from their machines. Erema's technology has become established as a global, leading standard for a wide variety of recycling tasks, ranging from the recycling of polyolefins to polyester (PET).