"All-electric Engel e-motion injection moulding machines are increasingly being deployed in high-performance applications in the packaging industry", says Piotr Nachiło. "The consistent ongoing development of this model series is what makes this possible." The latest generation of Engel e‑motion injection moulding machines achieves cycle times of well under 3 seconds and injection speeds of more than 500 mm per second, a performance class that was long the domain of hydraulic accu machines. "We can now combine top performance with maximum energy efficiency thanks to all-electric drive technology", Nachiło elaborates.
Automotive: Energy bundle on the smallest possible area
Maximum force at comparatively little space – offered by the Engel duo dual-platen large-scale machines. With regard to the footprint, the Engel duo 500 pico is one of the smallest machines of this series and with a dry cycle time of 2.6 seconds, it is the fastest dual-platen machine available on the market. At Plastpol an Engel duo 3550/500 pico will manufacture engine covers from glass-fibre and mineral-fibre reinforced polypropylene in collaboration with an Engel viper 20 linear robot.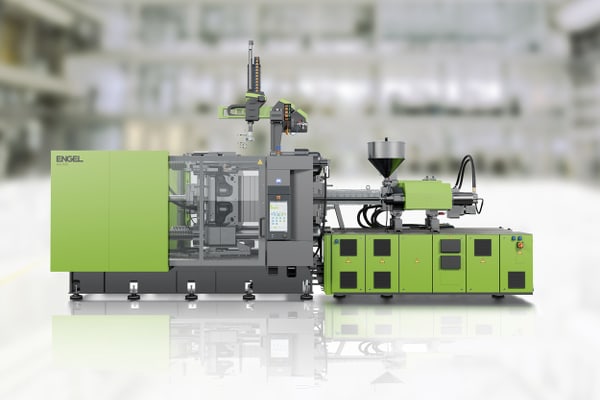 Telectronics: Highly efficient manufacturing of miniature precision components
In the electronic and telecommunication sectors, it is necessary to combine energy efficiency with maximum precision and flexibility. And yet, as the demands for quality increase, part sizes are decreasing. In order to meet these requirements while keeping costs low, Engel has combined the advantages of the tie-bar-less design with those of the all-electric drive technology and added a small, tie-bar-less version to its Engele-motion series. An Engel e-motion 50/30 TL will showcase the full potential of this machine innovation by manufacturing connectors.
Engel has developed a new frame concept for its smallest tie-bar-less machine, which enables a particularly light and very short machine design. With a length of only 3 metres, the Engel e-motion 30 TL is the shortest 30-tonne machine with all-electric drive technology on the market. In addition, the barrier-free mould space allows for comparatively large moulds and thus further contributes to a small plant footprint.