Smart management of integrated processes: The new CC300 control unit generation will be Engel's main attraction at Plastpol 2014 from May 27 to 30. This year, Engel's presentation in Kielce will be bigger than ever. With four production cells at two stands plus another machine at a partner's stand the injection moulding machine manufacturer demonstrates how automated manufacturing processes can be controlled in a particularly simple and safe way.
Process integration and automation are crucial to increasing efficiency in injection moulding production. At the same time, however, they make the manufacturing processes more and more complex. Making the operation of highly-integrated and automated production processes easier, more comfortable and safer was therefore the declared goal of Engel in the development of its new CC300 control unit generation, which will be presented in Poland for the first time at Plastpol 2014. The new features include the extra-large 21'' multitouch display with a new and even clearer structure, separate views for each task, which eliminate operator errors in full-feature scope, and the central control button e-move that gives the operator a feeling for the machine in spite of the multitouch functionality. By being rotated, e‑move enables all machine and robot movements to be controlled millimetre by millimetre and in a speed-sensitive manner.
"With the CC300 we are setting a new trend," says managing director of Engel Polska Piotr Nachiło in Warsaw. "The first users' feedback has been extremely positive." One main reason has been that the operators are able to figure out the new control unit immediately. The basic principles that operators appreciated in the previous model have been retained. In addition, user technologies that have since become standard were transferred to the demands of the injection moulding processes – for example, the intuitive gesture controls found in smartphones.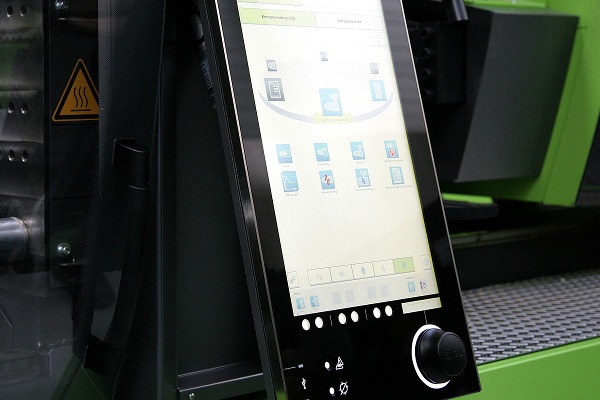 All four machines on display at the two Engel stands feature the CC300 machine control unit. "We invite all visitors at the fair to try out the new control concept for themselves at Plastpol," Piotr Nachiło states.
At its main stand in hall F Engel will present automotive and packaging applications, and LIM, while the special presentation in hall E is dedicated fully to the new Engel e-motion 30 TL injection moulding machine.