Technical Moulding: Efficient use of LIM multi-component processes
The main demands as regards the processing of liquid silicone (LSR) are that it must be fully automatic, waste-free, low in burrs and require no reworking. An Engel e-victory 200H/80W/120 combi injection moulding machine – automated with an Engel viper 20 linear robot – will impressively show that Engel system solutions not only meet these requirements fully, but also handle LIM multi-component processes securely and efficiently. A mould provided by ACH solution (Fischlham, Austria) will be used to produce sensor housings for flow measurement with integrated seals. "We can guarantee maximum precision by using servo-powered injection units," says Leopold Praher, head of sales for elast/LIM machines at Engel Austria. "Normally the LSR field requires special solutions where very small injection unit volumes are involved. In this case we meet that need with a standard unit." Developed and patented by Engel, iQ weight control software applied in the system recognises and automatically compensates for fluctuations in melt quantity during the actual injection process.
The tie-bar-less technology of the Engel e-victory machine also makes a decisive contribution to high process stability in this application, while the patented force divider evenly introduces force to the mould across the platen face. Both outer and inner cavities are thereby kept closed with precisely identical force, significantly reducing mould wear and raising product quality. On top of this, free access to the tie-bar-less machine's mould area facilitates the most effective automation concepts.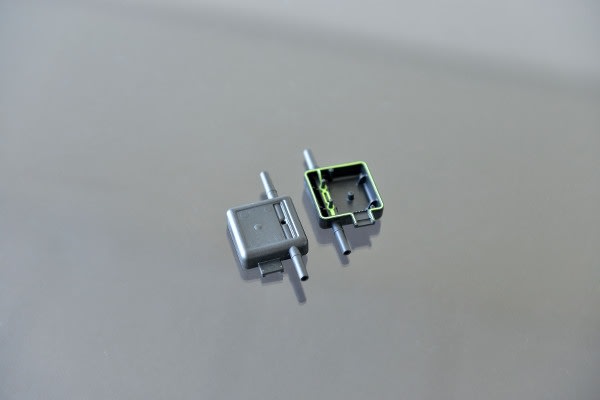 Engel plus: Controlled conditions
At the Fakuma event, Engel will devote a special presentation area to Engel plus, the name for its service products and optimisation tools. The main theme of the display will be intelligent mould temperature control. "Although mould temperature control has a major influence on the productivity of the manufacturing process as well as component quality, we tend to pay too little attention to this aspect," emphasises Wolfgang Degwerth, head of the Customer Service division at Engel Austria. Engel prompted a rethink when it developed Engel flomo in 2010. The compact temperature-control water distribution system has manual settings and can be integrated into a machine; electronic monitoring has increased process reliability and simplified process optimisation in more than a thousand new machines to date. For Fakuma 2014, Engel will be taking the next step from process monitoring to process control. The newly developed Engel e-flomo has electric control valves that make it possible to adjust and control flow rates fully automatically; Engel will demonstrate this live at the trade fair. "Engel e-flomo keeps the temperature in the mould constant throughout the production period, even where water pressure varies," says Degwerth. "This results in greater efficiency, process reliability and consistently high product quality."